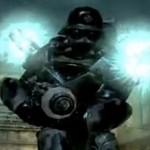 Wolfenstein 3D is headed for download on Xbox Live Arcade this Wednesday (June 3rd) and Playstation Network on Thursday (June 4th). The first-person action title originally released from id Software back in '92 will have its revival on Xbox 360 and Playstation 3.
In collaboration with Activision Publishing, id Software is calling on gamers to earn weapon upgrades for the upcoming Wolfenstein (scheduled for August 4th) by playing the downloadable Wolfenstein 3D.
In Wolfenstein 3D, you must once again defeat Hans Grosse and Mecha-Hitler in the six episodes that span 60 levels.
The game is a classic first-person shooter which was originally released for MS-DOS. It is often credited as popularizing the "shooter" gaming genre. Wolfenstein 3D is rated M by the ESRB.