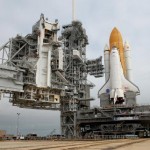 NASA TV will cover the upcoming Space Shuttle Atlantis launch in high definition starting tomorrow at 10 a.m. ET with the "STS-125 Countdown Status Briefing" from Kennedy Space Center. The countdown clock will start tomorrow at 4 p.m. ET and NASA will broadcast Atlantis mission coverage throughout the weekend leading up to the actual launch scheduled for Monday, May 11 at 2:01 p.m. ET.
The Space Shuttle Atlantis STS-125 will carry a crew of seven on an 11-day mission to visit the Hubble space telescope to perform several upgrades. The upgrades, including replacement of two instruments and repairing of two inactive ones, will allow the telescope to function for at least another five years.
You can watch coverage of the event on Nasa TV throughout the weekend including the arrival of the crew, countdown briefings, launch pad structure retraction and other events leading up to Monday's scheduled launch. Live television coverage of the actual launch will also be broadcast on HDNet which will start at 1:30 PM ET (10:30 a.m. PT) on Monday. HDNet will run an encore presentation of the launch on Tuesday, May 12 at 10:00 a.m. ET.