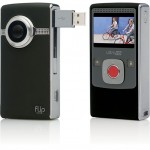 Pure Digital announced the availability of its newest line of Flip Video cameras, the Flip Ultra and Flip UltraHD models. The HD model records at 1280 x 720 video resolution, and outputs widescreen format via HDMI interface. Both cameras record up to 2 hours of video, using the 4GB built-in memory (standard definition) or 8GB built-in memory (high definition model).
A bright 2-inch transflective viewing screen helps with reflections when using in the bright sun. The rechargeable battery pack uses AA batteries which can be charged via USB connection. The new camcorders are pre-loaded with FlipShare, the software that allows editing, organizing and sharing of video content.
The Flip UltraHD high definition camcorder sells for $199.99 (or $149.99 standard definition) and is available in either white or black
from Amazon.com.
Flip UltraHD Camcorder Features:
—  SRP: $199.99
—  Colors: Black, White (with chrome trim)
—  Video Resolution: High Definition, 1280 x 720
—  Records: 2 hours (8 GB built-in memory)
—  Screen:  2 inch – transflective (anti-glare)
—  Batteries: 2 x AA (rechargeable AA battery pack included)
—  TV Output: Widescreen with HDMI(TM) output
—  Zoom: 2 x Digital
Flip Ultra Camcorder Features:
—  SRP: $149.99
—  Colors: Black, White, Yellow and Pink
—  Video Resolution: 640 x 480
—  Records: 2 hours (4GB built-in memory)
—  Screen:  2 inch – transflective (anti-glare)
—  Batteries: 2 x AA (optional rechargeable AA battery pack sold
separately)
—  TV Output: SD Composite Video
—  Zoom: 2 x Digital