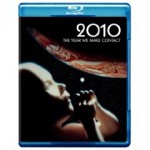 Our Blu-ray pic of the week has got to be 2010: The Year We Make Contact. Although there are about 26 other Blu-ray releases today, Peter Hyams' follow up to Kubrick's 1968 film 2001: A Space Odyssey is a sure pick for your hi-def collection. The 1984 film was nominated for five Academy Awards including Best Art Direction, Best Sound, and Best Visual Effects.
'2010' was based on Arthur C. Clarke's follow up novel to "2001: A Space Odyssey". Although Screenwriter/Producer/Director Peter Hyams certainly faced a challenge putting together a sequel to the classic 2001: A Space Odyssey, he was successful in making a different type of film, one with exciting plots and amazing visual effects.
In the film, an American-Soviet space mission is launched to find the cause of failure of the spaceship Discovery. Dr. Heywood Floyd (Roy Scheider), former director of the National Council on Astronautics, recruits engineer Dr. Walter Curnow (John Lithgow) and HAL 9000 programmer Dr. Chandra (Bob Balaban) to join him on the mission.
The Blu-ray Disc is formatted in VC-1 (Video) with Dolby TrueHD 5.1 (Audio). The film's aspect ratio is 2.40:1 at 1080p resolution. This is a single-layer BD-25 disc with only the original trailer and promotional featurette as extras. We can only hope for a more extensive extras selection sometime soon, but for now seeing the movie in hi-def is enough to hold us over.
2010: The Year We Make Contact
List Price:
$28.99
| Current Price:
$13.99
|
Order Now