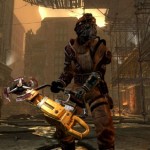 Good news. Bethesda has successfully re-uploaded their 'The Pitt' DLC to Xbox Live. This Fallout 3 content, which was initially pulled due to corruption, is now clean and ready to be consumed. Bethesda has posted the following on their official blog. It instructs those who downloaded the corrupted file on how to acquire the clean update.
"The English version of The Pitt is now available for download on Xbox Live. If you downloaded the (corrupted) file that was originally available, you will need to delete it before downloading the new version. If you haven't deleted DLC content before, here's the steps you'll want to take:
• Sign in to Xbox LIVE then press the guide button
• Go to Settings->System Settings->Memory.
• From here, scroll down to Fallout 3 and press A.
• Select Fallout 3: The Pitt (Marketplace Content) press A then choose Delete, then Yes to Delete (make sure not to delete any of your game saves)
Once the original version is deleted, you can re-download The Pitt again free of charge.