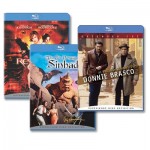 Amazon.com has launched a buy two, get one free Blu-ray disc promotion. The sale includes great titles like Jerry Maguire (Won 1 Academy Award, nominated for 5), Donnie Brasco (nominated for 1 Academy Award), foreign action/drama La Femme Nikita, and the 1958 classic The Seventh Voyage of Sinbad (50th Anniversary Edition) — all must-haves for your hi-def collection.
Below we put together a few Blu-ray "3-packs" that may peak your interest. You can also view the full list
of Blu-ray Discs eligible for the promotion. The sale ends March 9.
The "Action" pack:
La Femme Nikita (1990)
XXX (2002)
Curse of the Golden Flower (2006)
select discs

The "Milla Jovovich" pack:
Resident Evil (2002)
Resident Evil: Apocalypse (2004)
The Messenger: The Story of Joan of Arc (1999)
select discs

The "Academy Award" pack:
Jerry Maguire (+ BD Live) (1996) – Won for Best Supporting Actor
In the Line of Fire (+ BD Live) (1993) – Nominated
Donnie Brasco (Extended Cut) (1997) – Nominated
select discs

The "Comedy" pack:
Hitch (2005)
50 First Dates (2004)
Monty Python's Life Of Brian – The Immaculate Edition (1979)
select discs

Shop for more Blu-ray titles at Amazon.com
.