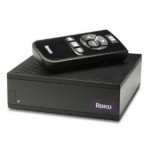 Here is the good news. The $99 Roku player will download Amazon purchased or rented movies the day of DVD releases. No more running to the video rental store only to find your movie is "rented out." The bad news is, no HD mentioned in the announcement.
We first heard about the Roku/Amazon compatibility in beta testing last month and hoped there would be HD support. But it doesn't look that way yet. You'll have to settle for standard-definition for now but the 40,000 title VOD library may put a smile back on your face.
The Roku player will continue to stream and download Netflix content. The Netflix library consists of over 100,000 titles, with 12,000 movies and TV shows available for unlimited access with a monthly fee.
[HTML1]