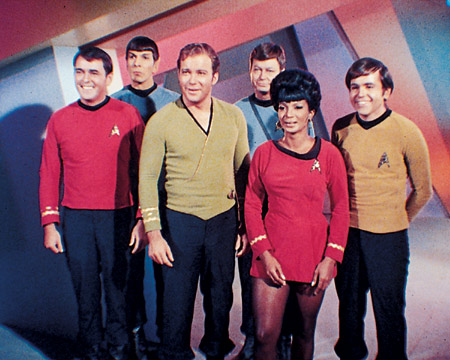 Trekkies rejoice! Paramount Home Video is set to release season one of the original Star Trek series this coming April on Blu-ray. The 7-disc set will include all 29 episodes of the original season which aired over 40 years ago from 1966 to 1967.
'The Original Series – Season One' will include such classics as "Where No Man Has Gone Before," "The Enemy Within," "Mudd's Women," and "This Side of Paradise." Original cast members include William Shatner, Leonard Nimoy, DeForest Kelley, James Doohan, George Takei, and Nichelle Nichols.
According to Home Media Magazine, the Blu-ray disc will have the ability to switch back and forth from the original and remastered versions. If you had the chance to see any of the digital television broadcasts of the remastered versions you would know what a superb job the engineers did in giving these episodes new life.
The 24+ hour collection of discs will include behind-the-scenes extras and features. Also included in the set will be an exclusive Sulu action figure.
"Star Trek: The Original Series – Season One" was first released in high-definition on HD DVD in November of 2007. The remastered digital versions were also first televised around the same time. Now, we finally get a chance to see the series on Blu-ray Disc.
UPDATE: Released on April 28, 2009. Order Star Trek: The Original Series: The Complete First Season
on Blu-ray for $56.49 ($49% off the suggested retail of $129.99).