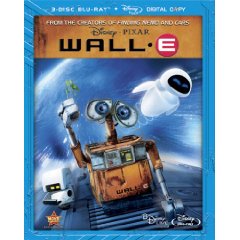 This week brought a slew of Blu-ray releases: something for everyone you might say. There are 80 hi-def releases listed on Amazon that includes everything from Tropic Thunder to Jeff Dunham's Very Special Christmas Special. But how do you sort through all the releases to decide which are worth getting and which are worth waiting for? Here are some pics that I don't think you will be disappointed with.
Wall-E (Three-Disc Special Edition + Digital Copy and BD Live) (2008)
Disney/Pixar release from this year that takes you to planet earth after humans have left because it has been overrun with garbage. This version of the Blu-ray release includes a digital copy for you iPod or other portable device.
Tropic Thunder (Unrated Director's Cut) (2008)
This comedy stars Ben Stiller, Jack Black, Robert Downey Jr. who are out to film the next Rambo movie but get caught up in a real battle with drug smugglers. Gets 4-1/2 stars from Amazon customer reviews.
The Island (2005)
Directed by Michael Bay this THX 1138 "clone" is fairly exciting but visually striking and worth seeing in high-definition. Stars Ewan McGregor and Scarlett Johansson who also make the film worth watching.
The Universe: The Complete Season 1 (2008)
From A&E Home Video HISTORY presents 13 episodes from the THE UNIVERSE: THE COMPLETE SEASON ONE on 3 separate Blu-ray Discs. This disc set is a must-have in high-definition.
Foo Fighters – Live At Wembley Stadium (2008)
From their two sold out Wembley Stadium shows on June 6 and 7 of 2008 the Foo Fighters perform 18 songs including "Times Like These," "Learn To Fly" and "Best Of You."
Lucky Number Slevin (2006)
Great cast includes Josh Hartnett, Ben Kingsley, Morgan Freeman, Lucy Liu, Bruce Willis in this Tarantino-esque thriller/shoot-em-up that could be compared with "The Usual Suspects" although not as memorable.
Awake (2008)
Hayden Christensen, Jessica Alba and Terence Howard star in this mystery thriller that keeps you guessing. Gets an average customer review of 3 out of 5 stars but features Jessica Alba in hi-def. Need I say more?
The Goonies (1985)
Come on now…how can you pass it up? Written by none other than Steven Spielberg, Sean Astin and Josh Brolin find a treasure map and go on a search for some buried gold.
Here is the full list of all the Blu-ray releases
for this week.