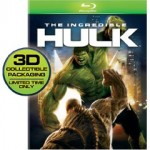 The Incredible Hulk will be released on Blu-ray this coming October 21. Among the features of the Blu-ray release and Special Edition DVD are deleted scenes, an alternative beginning, and a digital copy for iPod, Mac and PC. The Blu-ray version will be packaged in a special collections edition 3d box. The film stars Edward Norton, Tim Roth, Liv Tyler and William Hurt.
The Incredible Hulk on Blu-ray looks like a promising release considering its extras. "The Making of The Incredible Hulk" is an in-depth documentary that will cover the casting process, production and storyline. "Becoming the Hulk" will explore Edward Norton's approach to the character and the visual effects that make the Hulk.
Among other features, "Anatomy of a Hulk Out" will go behind the scenes of three of the films most exciting action sequences. Other extras on both the hi-def and DVD release are "Becoming The Abomination" and commentary by director Louis Leterrier. I'm most looking forward to the alternate opening and deleted scenes.
Exclusive extras to the Blu-ray release are U Control, bringing animated panels, storyboards, comic book gallery and scene explorer. BD-Live with My Chat will allow you to converse with friends via ethernet connection while the movie plays. And, you can share your favorite movie clips with My Scenes.
The Incredible Hulk (2008) Blu-ray will be released on October 21, 2008. Don't get confused with The Hulk (2003) starring Cara Buono and Jennifer Connelly being released a month earlier on September 16. The 2008 "Hulk" is a much better film.