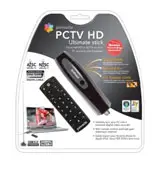 I've used two of these USB capture cards. One is the Pinnacle PCTV HD Pro Ultimate Stick and the other the Elgato EyeTV Hybrid. Both devices require you to attach an antenna (that must be DTV/HDTV compliant) to the USB unit. Antennas can range from $9.99 to hundreds of dollars, depending on the size. Small rabbit ears will be good enough to grab the DTV signals as long as you are in a good reception area.
Once the antenna is connected, you use the included software on each device to tune into HD or STD channels, record content to your hard-drive, and even schedule recordings. You can also use the devices to import footage from an external player like a VCR via an A/V adapter cable. This is a great way to archive those old home movies digitally.
The Pinnacle PCTV HD Pro Ultimate Stick lists for $129.99. The Elgato EyeTV Hybrid retails for $149.95. Both are available on the company's online stores or other retail outlets.