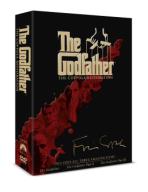 Francis Ford Coppola's The Godfather epic trilogy will be released on Blu-ray September 23. The newly-restored high-definition versions arrive 36 years after the original film was released in 1972.
The Godfather I and The Godfather, Part II took over a year to restore in a historical preservation effort. The collection also includes a newly remastered version of The Godfather Part III. The HD format of the restored films is 16:9 in Dolby Digital Surround 5.1.
"The Godfather, The Coppola Restoration Collection" will be available in a five-DVD collection or four-disc Blu-ray collection, which come with director commentaries, additional footage, trailers and other features. The films will also be available individually, but it appears only in the DVD format.
Retail price for "The Godfather: The Coppola Restoration" on Blu-ray will be $119.99,  a small price to pay for the best film trilogy of all time. The standard-definition DVD collection will go for $72.99. And, the individual restored DVD films will sell for $19.99.