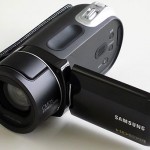 The Samsung SC-HMX20C camcorder due out this month can record 300 fps (frames-per-second) onto a Flash drive, thereby giving you the ability to record any action in slow-motion for up to 10 seconds. And yes, it does full 1080p at 30 fps.
The camera also delivers outstanding still images (up to 8 megapixels) which can be taken simultaneously. To further improve still image picture taking, the SC-HMX20C has a built-in pop up flash unit. The flash memory technology allows for quick startup and low battery consumption.
The CMOS (Complementary metal–oxide–semiconductor) boasts 6.4 megapixels, and HDMI and USB connectivity allow the camera to play footage on an HDTV or PC.
No word on when this slo-mo high-definition handy-cam will be on the U.S. and U.K. markets, but word is that it has been announced in South Korea where the cost will be about 899,000 won (US$857).