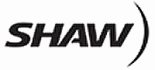 British Columbia, Alberta and Manitoba will get new high definition channels after television provider Shaw moves its current channel line-up to make room for HD content.
Between April 22 and April 24, TLC HD, Encore Avenue HD and additional HD Pay Per View movies and events will be available to subscribers.
Shaw Communications offers broadband cable television, high-speed internet and digital phone services to over 3.3 million customers in Canada.