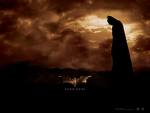 Previously only available on DVD and HD DVD, Warner Bros. is set to release Batman Begins on Blu-ray Disc. The release date is July 8, 2008, which is ten days before the latest Batman picture The Dark Knight is scheduled to be released in theaters.
Batman Begins will be available in three different versions — two on Blu-ray and one in standard definition (limited edition). The Blu-ray versions will be available in both a single disc format ($28.99) and a limited edition gift set ($49.99). The Batman Begins Limited Edition Gift Set will include the first six minutes of The Dark Knight, a 32-page booklet, five collectible postcards of key art, and $7.50 towards an adult ticket to see The Dark Knight. 
The single Blu-ray disc will also include The Dark Knight prologue, and hopefully the extras that were included on the previous HD DVD release. The standard definition Batman Begins Limited Edition Gift Set ($39.92) will include a 128MB Batman branded flash drive, in addition to the postcards and $7.50 ticket credit offered in the Blu-ray limited edition set.