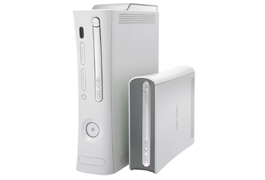 Microsoft will not pursue developing a Blu-ray player (whether add-on or internal) for its popular high definition gaming console, the Xbox 360. Aaron Greenberg, group product manager for Xbox 360 told Reuters, "Xbox is not currently in talks with Sony or the Blu-ray Association to integrate Blu-ray into the Xbox experience."
This comes as a bit of shock to Blu-ray supporters many of whom believe it would be a poor business move, and that digital downloads will not be a viable option for a very long time due to bandwidth limitations. However, Microsoft is betting on a quicker evolution into downloadable media and is betting on the Xbox 360 console and Xbox Live to provide that service. "We're the only console offering digital distribution of entertainment content", Greenberg added.
Most of the uncertainty comes from pure speculation of how quickly digital downloads and bandwidth will become fast enough to replace disc formats. No-one can really speculate if Blu-ray will ever flourish the way DVD has, and so we have one corner saying discs are not going away any time soon and other corner betting on a bandwidth explosion.
Currently most high definition downloads via AppleTV or Xbox Live are 720p or 1080i. These are lower resolutions than the golden 1080p that Blu-ray offers, but for most consumers upgrading to 720p or 1080i content via downloads may be enough of an improvement to live on. One thing is for sure, now that Blu-ray has knocked off HD DVD they have a new contender named "Microsoft."