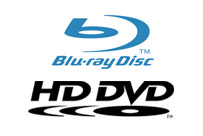 We are going to look back and realize what a foolish war this has been. Fanboys, mainly coming from the Blu-ray said, go on and on about how much better their disc is and about how HD DVD buyers are losers. While HD DVD peeps were probably not the early adopters, and perceptively "not as cool", they are only guilty of wanting a cheap way into high definition.
The reality is, it is just a disc. Just a format. Just a difference in capacity. And, just a difference in name. I often hear my 4-year old say, "Mine is bigger than yours", or "I have more than you." It is such a childish thing to put down what you don't have. Friends of mine who own both formats, Blu-ray and HD DVD, never say a word about which is better, because who gives a rat's ass? They both accomplish the same thing! It's almost like saying my Corolla is better than your Accord because it has a bigger gas tank.
The only thing I'm sort of happy about is that Sony was the better format in the Beta vs. VHS battle, and now they are having their day. Because boy do I hate the quality of VHS. There is nothing redeeming about it. However, Blu-ray is not a better format than HD DVD. Sure it holds more data, but you show me a release that actually makes use of those extra gigabytes and I'll swing my opinion. Every so slightly, but I'll swing my opinion.
Well, now that the movie disc war is over we can focus on hating each others high def gaming format. Xbox 360 vs. Playstation 3? Hmmm, I wonder which one is superior?