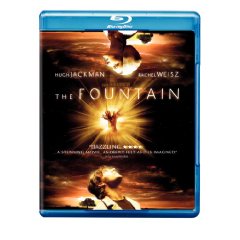 The Fountain
, now available on both Blu-ray disc and HD DVD. This sci-fi film was directed by Darren Aronofsky, and stars Hugh Jackman, Rachel "Hottie" Weisz, Ellen Burstyn. Read this week's hi def movie review from Scanlines.
The Fountain (Warner) (Blu-ray)
Featuring: Hugh Jackman, Rachel "Hottie" Weisz, Ellen Burstyn
A trip, in the literal and figurative sense, from beginning to end, and The Fountain is nothing if not about endings and how we struggle to avoid them. Basically an extended series of jaw-droppingly beautiful riffs on thanatology through the ages and beyond, The Fountain is one of those films that demands repeat viewings. Sure it's pretty pretentious stuff at times (fans of director Aronofsky may quibble), but it's quite unlike anything else out there, and has solid performances from the gorgeous leads and, of course, the terrific Ellen Burstyn (oh so fine in Aronofsky's Requiem For A Dream). The effects work occasionally has a throwback look that's rather nice, the philosophy is wonky enough to be engaging, and the costumes, cinematography and score (by the awesome Clint Mansell) are all wonderful to behold.
Still, it's not for everyone… though if you dug Mel Gibson's portrayal of Mayan civilization, then I assure you that you'll be blown away by Aronofsky's take on the culture (and it's just a segment of the overall film)… there's action, tragic romance, and a quest for the tree of life. Just on that alone, it's worth a look, and what a look it is in hi-def (though, like almost all Warner's releases, this could have used a better sound compression method: 640kbps for Blu-ray!! C'mon Warners!). The gorgeous image is widescreen (1.85 aspect ratio) enhanced for HD in 1080p resolution. Sound, which I think suffers a bit, is in Dolby Digital 5.1 surround in English/French (subtitles in English, Spanish and French).
There's some short making-of featurettes:
• Inside The Fountain: Death And Rebirth
• Exploring the Movie's Various Periods and Settings
• The Interview
• VFX Step by Step
• Inside the Director's Mind: Scene to Storyboard Comparison
• Peter Parks Bonus – Macro Photography Loop
Last, but not least, there's a theatrical trailer. Get this one for the theatrical content… and hope Warner's starts releasing its better films with sound that meets the hi-def criteria for home theater.