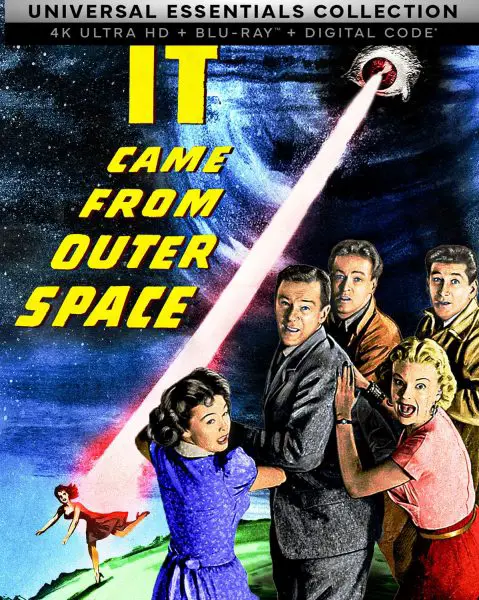 Classic science fiction film It Came from Outer Space has been remastered in 4k with HDR10 for release on Ultra HD Blu-ray from Universal. The 2-disc editions with Digital Copy arrive in stores on October 3, 2023 in a standard edition and Universal Essentials edition.
In 4k, the film is presented in 2160p at 1:33;1 aspect ratio with HDR10 High Dynamic Range. Audio is provided in English DTS-Master Audio 3.0 and LCR Discrete. Subtitles are provided in English SDH, French, and Spanish.
The Universal Essentials Edition includes a 34-page booklet, film cell replica, 4 promotional art cards, reversible sleeve, and certificate of authenticity.
It Came from Outer Space is priced $21.99 (List: $29.98) in the standard edition and $34.99 in the Universal Essentials Collection. Buy on Amazon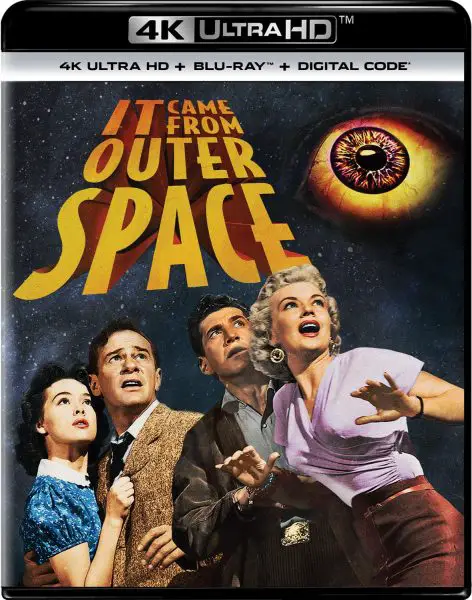 Bonus Content
Includes 4K UHD, Blu-ray and a digital copy of It Came from Outer Space (Subject to expiration. Go to NBCUCodes.com for details.)
4x Sharper than Full HD with High Dynamic Range (HDR10)
The Universe According to Universal
Theatrical Trailer
Feature Commentary with Film Historian Tom Weaver
Theatrical Trailer (3D)
Limited Edition Contents
34-page booklet featuring on-set photos, artwork, promotional images, and more
Film cell replica of an iconic scene from the movie
4 promotional art cards
Reversible sleeve with original poster art
Numbered certificate of authenticity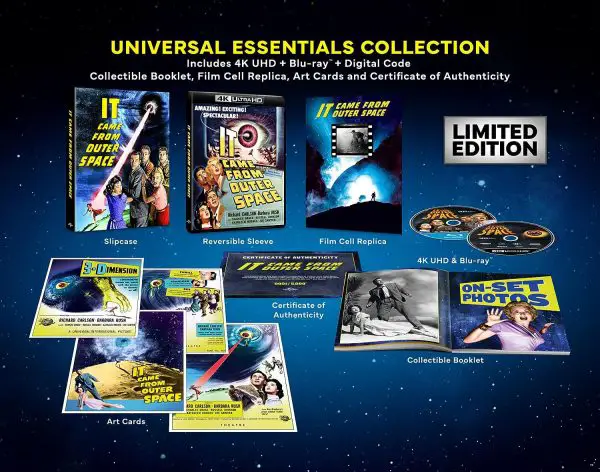 Synopsis: Based on a story by acclaimed writer Ray Bradbury, It Came from Outer Space starring Richard Carlson and Barbara Rush is a science fiction classic that is as thought-provoking and tantalizing today as it was when it first "landed" on the silver screen. When amateur astronomer John Putnam (Carlson) and his fiancée Ellen Fields (Rush) are stargazing in the desert, a spaceship bursts from the sky and crashes to the ground. Just before a landslide buries the ship, a mysterious creature emerges and disappears into the darkness. Of course, when he tells his story to the sheriff (Charles Drake), John is branded a crackpot. Before long, strange things begin to happen, but will the tide of disbelief turn in time?