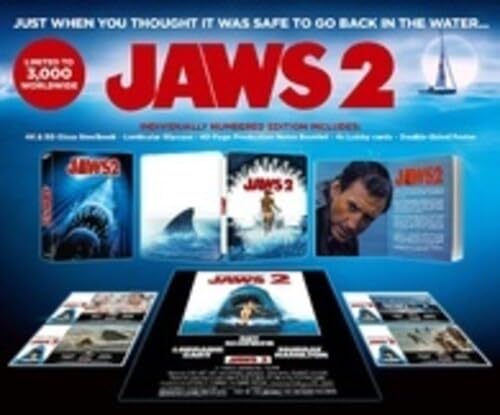 Jaws 2 will release in this Limited Collector's Edition in SteelBook packaging on July 28, 2023. The special edition (only 3,000 copies worldwide) features a lenticular slipcase, a 40-page production notes booklet, 4 lobby cards, and a double-sided poster.
The combo edition from Universal Pictures Home Entertainment includes a 4k Blu-ray, Blu-ray, and Digital Copy via Movies Anywhere.
The Jaws 2 Limited Collector's Edition SteelBook is priced $84.50 (List: $93.99) on Amazon.
On 4k Blu-ray, Jaws 2 is presented in 2160p resolution at 2.35:1 widescreen aspect ratio. Audio is provided in English DTS-HD Master Audio 2.0 Mono. Subtitles are in English SDH as well as multiple languages.
Legacy Bonus Material
Deleted Scenes
The Making of Jaws 2
Jaws 2: A Portrait by Actor Keith Gordon
John Williams: The Music of Jaws 2
The "French Joke"
Storyboards
The standard Jaws 2 movie on 4k Blu-ray with Blu-ray/Digital copies is priced $21.99 on Amazon.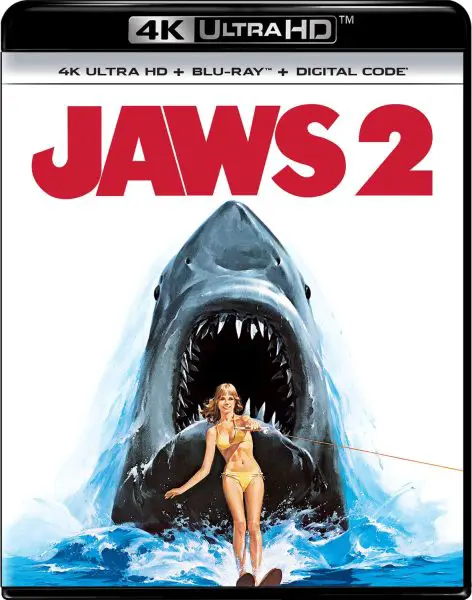 Synopsis: JUST WHEN YOU THOUGHT IT WAS SAFE TO GO BACK IN THE WATER… The horror is far from over as Roy Scheider, Lorraine Gary and Murray Hamilton reprise their iconic roles in Jaws 2. Four years after the great white shark terrorized the small resort of Amity, unsuspecting vacationers begin disappearing in an all-too-familiar fashion. Police Chief Brody (Scheider) finds himself in a race against time when a new shark attacks ten sailboats manned by teenagers, including his own two sons. The same heart-stopping suspense and gripping adventure that enthralled movie audiences throughout the world in Jaws returns in this worthy sequel to the original motion picture classic.