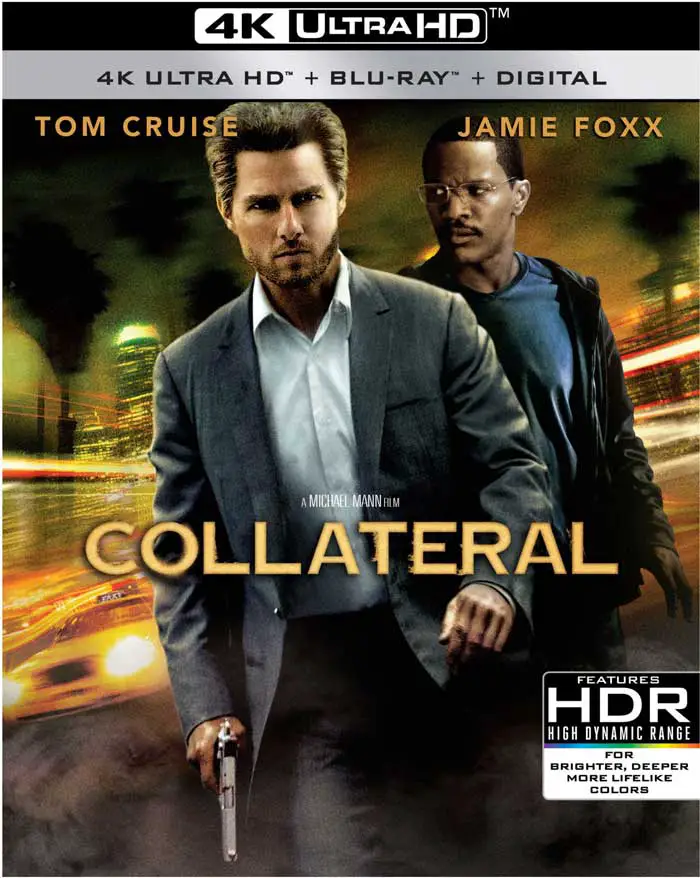 Paramount Picture's Collateral (2004) starring Tom Cruise and Jamie Foxx has been upgraded to 4k Blu-ray and will release on December 8, 2020. The Michael Mann-directed 2004 film was nominated for 2 Oscars including Best Performance by an Actor in a Supporting Role (Jamie Foxx) and Best Achievement in Film Editing.
On Ultra HD Blu-ray, Collateral is presented at 2.40:1 aspect in 2160p resolution with HDR10 High Dynamic Range. This is an upscaled version of the film to Ultra HD, as the original film was mastered in 2k. HDR is graded from the original digital intermediate. The included Blu-ray, however, also presents the remastered film in 1080p. does not present the remastered film. [This was an error on the fact sheet.]
Audio is provided in English DTS-HD Master Audio 5.1 (the same as the previous Blu-ray release), as well as French in Dolby Digital 5.1. Subtitles are offered in English, English SDH, and French. The Blu-ray edition includes the same audio formats with the addition Spanish and Portuguese in Dolby Digital 5.1 and subtitles in Spanish and Portuguese.
Previously released bonus materials with the 4k Blu-ray edition include commentary from Director Michael Mann, a deleted scene with commentary, a rehearsal with Tom Cruise and Jamie Foxx, and more.
Collateral (2004) on 4k Blu-ray Ultra HD (with Blu-ray and Digital Copy) is priced $24.99. Order on Amazon
Special Features (Previously Released)
Commentary by Director Michael Mann
City of Night: The Making of Collateral
Special Delivery
Deleted Scene with Commentary
Shooting on Location: Annie's Office
Tom Cruise & Jamie Foxx Rehearse
Visual FX: MTA Train
Editor's Note: This article contains a revision to the Blu-ray specs.