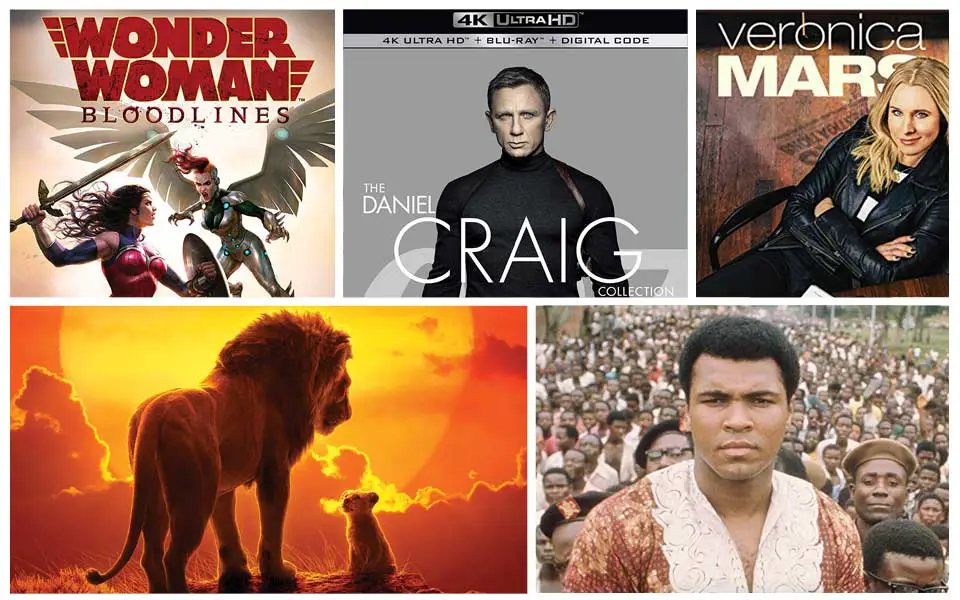 This week Disney's The Lion King (2019) is at the top of new Blu-ray releases. The animated film with voiceover acting from Donald Glover, Beyoncé, Seth Rogen and James Earl Jones is available in Blu-ray and 4k Blu-ray combo editions with digital and either Blu-ray or DVD copies, as well as in a single-disc DVD edition.
You can also pick up DC's Wonder Woman: Bloodlines on Blu-ray or 4k Blu-ray, Charlies Angels (2000) in a new 4k Blu-ray edition, Criterion Collection's When We Were Kings from a restored 4k digital transfer on Blu-ray, the complete first season of Veronica Mars, and the last four James Bond films starring Daniel Craig on 4k Ultra HD Blu-ray for the first time.
New Blu-ray & Digital Releases, Oct. 22, 2019
Digital
Blinded by the Light
2019 NBA Champions: Toronto Raptors
Scary Stories to Tell in the Dark
The Kill Team
The Silent Revolution
The Kill Team
Ultra HD Blu-ray
The Lion King (2019)
007 The Daniel Craig Collection
Wonder Woman: Bloodlines
Charlie's Angels
Blu-ray
TV Series
NOS4A2: Season 1
Veronica Mars: The Complete First Season
Movies
The Lion King (2019)
Wonder Woman: Bloodlines
Parasite 3-D
Don't be Afraid of the Dark – Warner Archive
David Crosby: Remember My Name
When We Were Kings – Criterion Collection
Charlie's Angels: Full Throttle (Unrated + Theatrical)
2019 NBA Champions: Toronto Raptors
Satanic Panic
Dauntless: The Battle of Midway
Trilogy of Terror II
Phobia
The Kitchen
Angel Of Mine
The Killer of Dolls
The Wild Pear Tree
Adam R Steigert's Fang
The Return of Martin Guerre
The Eagle – Arrow
Crimson Peak – rarow
Bloodline
Tamango
Blue
The Dead Center
A Man For All Seasons
Covergirl
Talking Walls
Strange But True
Zoltan… Hound of Dracula "Dracula's Dog"
The Fighting Preacher
Billy Bathgate
Woman Chasing the Butterfly of Death
Tone Deaf
Anime
Kase-san And Morning Glories
Angels of Death: The Complete Series
Is It Wrong To Pick Up Girls In A Dungeon? Arrow Of the Orion
Hundred: The Complete Series
Double Decker! Doug & Kirill: The Complete Series + OVAs
WorldEnd: What Do You Do at the End of the World? Are You Busy? Will You Save Us?: The Complete Series
Brave Witches: The Complete Series
See all of this week's new Blu-ray releases on Amazon.
New Releases Include Hobbs & Shaw, Stuber, Scarface 4k, & more!