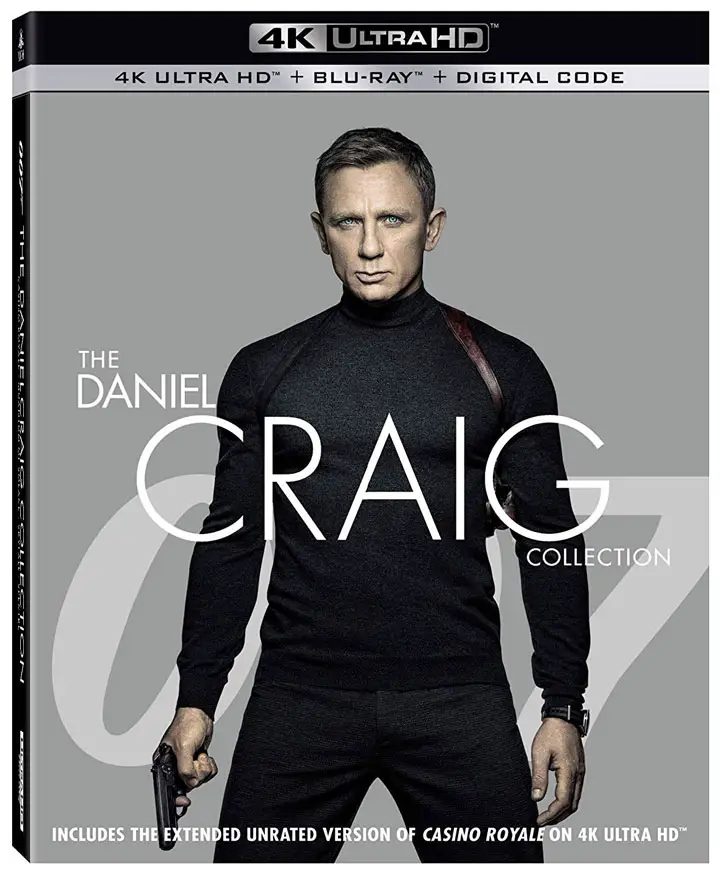 The four James Bond films starring Daniel Craig have been repackaged into The Daniel Craig Collection on 4k Ultra HD Blu-ray releasing on Oct. 22, 2019.
The bundle includes Casino Royale (2006), Quantum of Solace (2009), Skyfall (2012), and Spectre (2015). And, the edition also includes the extended unrated version of Casino Royale also on Ultra HD Blu-ray!
The set of four films was previously released to 1080p Blu-ray in 2016, and even earlier under the same title as a 3-disc collection on DVD a year earlier (before Spectre was released).
However, this new 4-film collection is an 8-disc collection that also includes Blu-ray and Digital Copies of each film (hence, the higher list price of $69.99).
The official packaging for the 4k collection hasn't been revealed yet. We're hoping they do something different than the same art that has been used preceding editions.
As mentioned above The Daniel Craig Collection is list-priced $69.99 on Amazon but that price will likely drop when closer to release date.
The new Daniel Craig collection on 4k BD anticipates the now-named 25th James Bond film "No Time To Die" scheduled to release to theaters in April 2020.