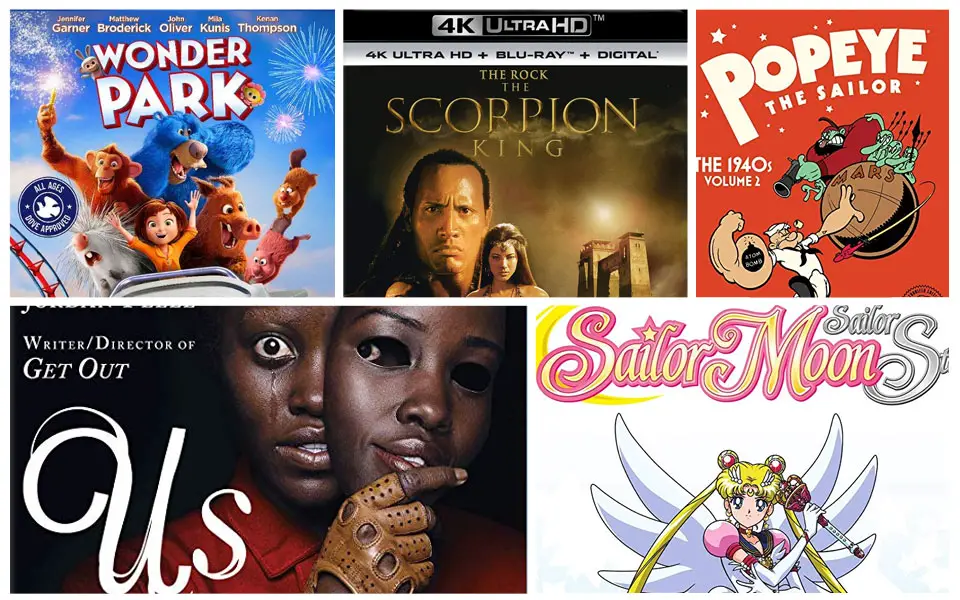 There isn't much competition this week for Jordon Peele's Us releasing to Blu-ray and 4k Blu-ray. The follow up to his Oscar-winning film Get Out, Us stars Lupita Nyong'o and Winston Duke in a horror/thriller where the characters find themselves facing their own grotesque doppelgängers.
Also on Blu-ray this week Paramount's animated feature Wonder Park, L'Humanité (1999) from Criterion Collection, Crypto starring Beau Knapp and Kurt Russell, and The Scorpion King (2002) on 4k Ulta HD Blu-ray,
For TV series, Sailor Moon Sailor Stars Season 5 Part 1, Popeye The Sailor: The 1940s Volume 2, Killing Eve: Season 2 and Will & Grace The Revival Season Two all release to Blu-ray Disc.
New on Blu-ray, June 18, 20129
Ultra HD Blu-ray
Blu-ray Disc
TV
Popeye The Sailor: The 1940s Volume 2
Patrick Melrose (Mini-Series)
Sailor Moon Sailor Stars S5P1
Will & Grace The Revival Season Two
Movies
Us (2019)
Wonder Park (2019)
The Beach Bum (2019)
Crypto (2019)
Disappearance (2019)
Public Figure (2019)
Hotel Mumbai (2018)
Under the Silver Lake (2018)
Run the Race (2018)
Swing Kids (2018)
Ordeal by Innocence (2018)
Hale County This Morning, This Evening (2018)
Loud Krazy Love (2018)
The Nightmare Gallery (2018)
May It Last: A Portrait of the Avett Brothers (2017)
The Crest (2017)
The United States of Detroit (2017)
Thirst (2009)
L'Humanité (1999) – Criterion Collection
La vie de Jésus "The Life of Jesus" (1997) – Criterion Collection
Oh, Woe Is Me "Helas Pour Moi" (1993)
Mississippi Burning (1988)
Détective (1985)
First Name: Carmen (1983)
Slayground (1983)
The Border (1982)
The Silent Partner (1978)
Corvette Summer (1978) – Warner Archive
The Brink's Job (1978)
Between the Lines (1977)
The Running Man (1963)
The Monolith Monsters (1957)
Anime
One Piece: Adventure of Nebulandia
Modest Heroes: Ponoc Short Films Theatre
Love Tyrant: The Complete Series
Basquash
Noein: The Complete Series
Daimidaler: Prince V.S. Penguin Empire – The Complete Series
Buddy Complex: The Complete Series
Collections
Universal Horror Collection: Vol.1
Wakaliwood Supa Action Volume 1: Who Killed Captain Alex? + Bad Black
New Blu-ray Releases: Captain Marvel, OITNB S6, Fast and Furious 4k & more!