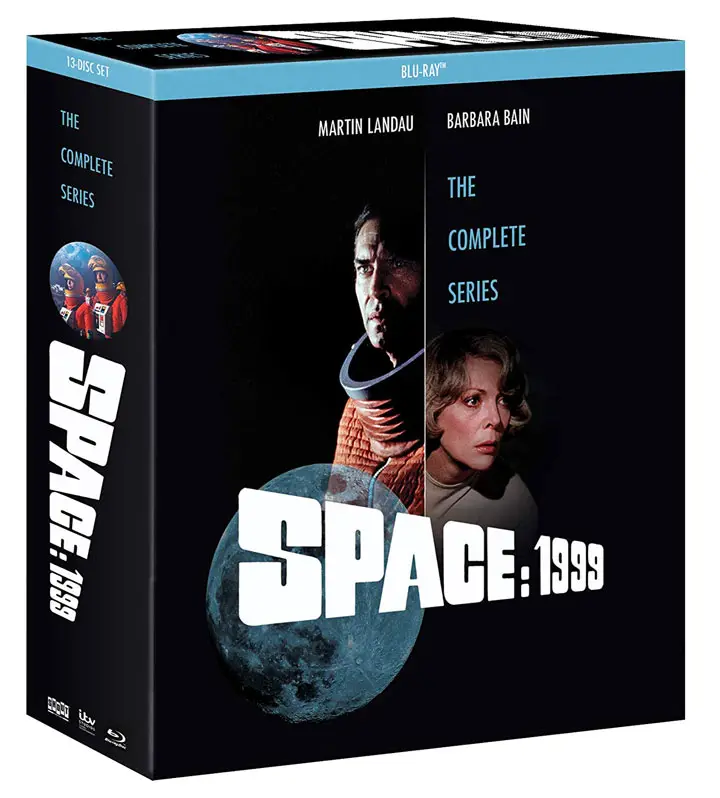 Think about the concept for the TV show Space: 1999 for a second. A nuclear waste dump on the Moon explodes and sends it hurtling out of the Earth's orbit along with 311 inhabitants of the Moonbase Alpha colony. It's a great base concept created by Gerry and Sylvia Anderson known for the series Thunderbirds that ran a decade earlier, pioneering the process of Supermarionation that strove to make more realistic puppet animation.
But Space: 1999 is live-action, and features a well-known cast including Martin Landau, Barbara Bain and Barry Morse. The two seasons that originally aired on ITV from 1975 to 1977 consist of a total of 24 episodes averaging 60 minutes each (although several episodes run 50 minutes).
Shout! Factory has created a 13-disc edition of Space: 1999 – The Complete Series with a total run-time of 39.5 hours on Region A Blu-ray discs. The episodes are presented 1.33:1 aspect ratio in upgraded 1080p resolution. And, subtitles are finally available in English.
Bonus Materials
Mission To Moonbase Alpha – Interview with actress Barbara Bain NEW
Into the Uncertain Future – Interview with actor Nick Tate NEW
Brain Behind the Destruction – Interview with director Kevin Connor NEW
Moonbase Merch – Tour of Space: 1999 Ephemera with author John Muir NEW
Audio Commentaries NEW
Vintage Interviews
Promotional Materials
Featurettes
& More
The boxed set is selling for $65.99 on Amazon (List: $109.99) and $109.99 on Shout! Factory.
Customers who order directly from Shout! Factory are eligible to receive a snow globe of the Eagle Transporter landing on the Moon. The Limited Edition with globe is only the first 500 customers but Shout! hasn't indicated whether or not it's sold out. A DVD version (without globe) is selling for $55.97 (List: $69.97).

The Complete Series of Space: 1999 was previously released to a Region B/2 edition a couple of years ago in a 10-disc edition from Network, but as you know the discs are useless here in North America without a multi-regional BD player.
Region B bonus materials which include 5.1 remixed audio tracks, original mono track broadcasts, commentary from Gerry Anderson on Breakaway and Dragon's Domain episodes, unfinished generic textless opening titles, and more. (See below for Region B extras).
Region B Bonus Material (Not Confirmed for Region A)
Newly remixed 5.1 tracks
Music-only tracks on most episodes
Original 'as broadcast' mono track
Gerry Anderson commentary on Breakaway and Dragon's Domain
Text episode commentaries on The Last Sunset and Space Brain
Image galleries of rare and previously unseen stills
Unfinished generic textless opening titles
Textless episode material (mute)
Textless end titles
Seed of Destruction series one version: a second-series episode presented in the style of the first series