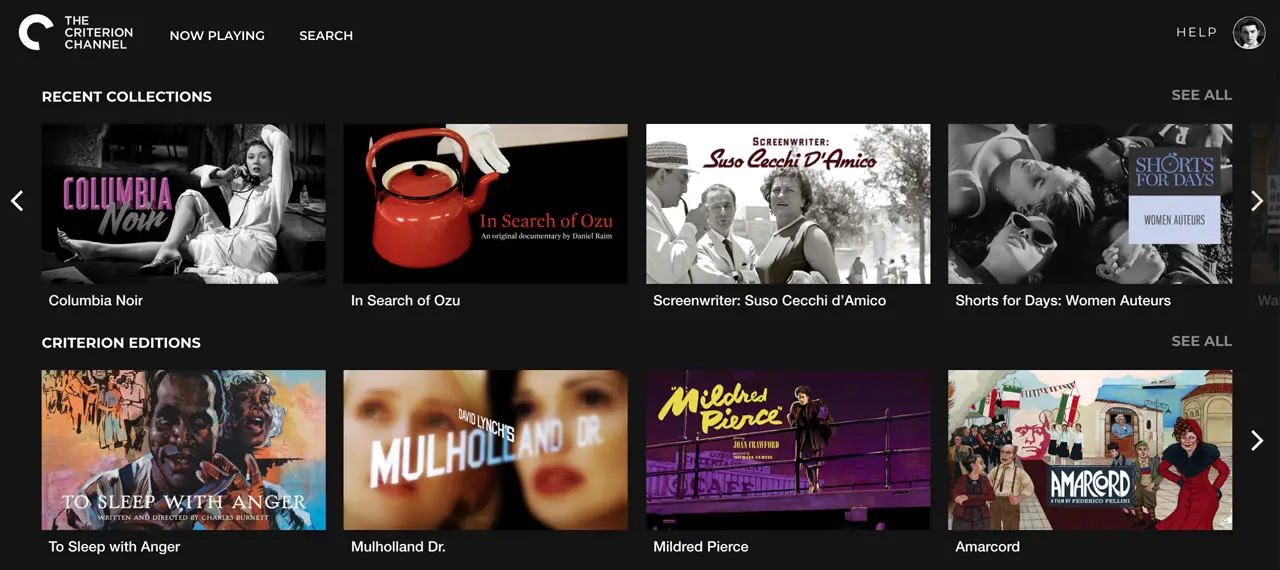 What may be a film connoisseur's dream, Criterion Collection has launched their first streaming channel with a wide selection of films available On Demand for $10.99 per month.
The service offers a selection of Hollywood, international, art-house, and independent movies along with Criterion Collection's whole streaming library of over 1,000 titles.
We've been long supporters of Criterion and their efforts to give select films the proper home media treatment deserved. Let's take a first look at Criterion's new streaming channel service.
Titles
The Criterion Channel is showing titles such as Jim Jarmusch's Down by Law (1986), Mulholland Dr. (2001) from writer/director David Lynch, a collection of films from French director Agnès Varda, and a film noir collection under the title Columbia Noir.
Recently added films include David Lynch's The Elephant Man (1980), My Brother's Wedding (1983) directed by Charles Burnett, and After the Wedding (2006) from director Susanne Bier starring Mads Mikkelsen, to name a few.
Streaming Quality
Like many streaming services it often takes several seconds for a video stream to be completely sharp, even with fast bandwidth. But, once it buffers the quality is really impressive and puts those bootlegged movies on YouTube to shame.
The video player includes the typical buttons for Play, Pause, Volume, Full Screen, subtitle option, and time code. But unfortunately does not display any technical information like video resolution, aspect ratio, or audio format. The player is also lacking rewind and fast forward functions.
Resume
One thing that users want these days is a service that remembers where you left off so you can come back to it later. But Criterion's service doesn't do this yet. You can Pause and resume playback but if you jump away from the current title it erases the previous timecode marker.
The service also needs a History section, so users can see what they have watched and resume unfinished movies anytime.
Search
Searching on the website is quite nice because the search field keeps the name on the screen so you can see what you just searched for with the results below, or make an adjustment and search for another title, director, or actor.
However, the search function is about as unforgiving as a WordPress website search. For example, if you search for "Jim Jarmusch" but accidentally spell it "Jim Jarmush" there will be no results. Hopefully they will improve this search function in future upgrades.
Lists
You can save titles to "My List" for viewing later but there aren't any options to organize by genre, director, etc. This could be another feature to add on in future software updates so users can find saved titles easier.
Supporting Devices
Within each title, Criterion tells you what devices it can be streamed on. This information is below the video player on the right side. Most titles support iPhone, Apple TV, Android, Android TV, Fire TV, and Roku.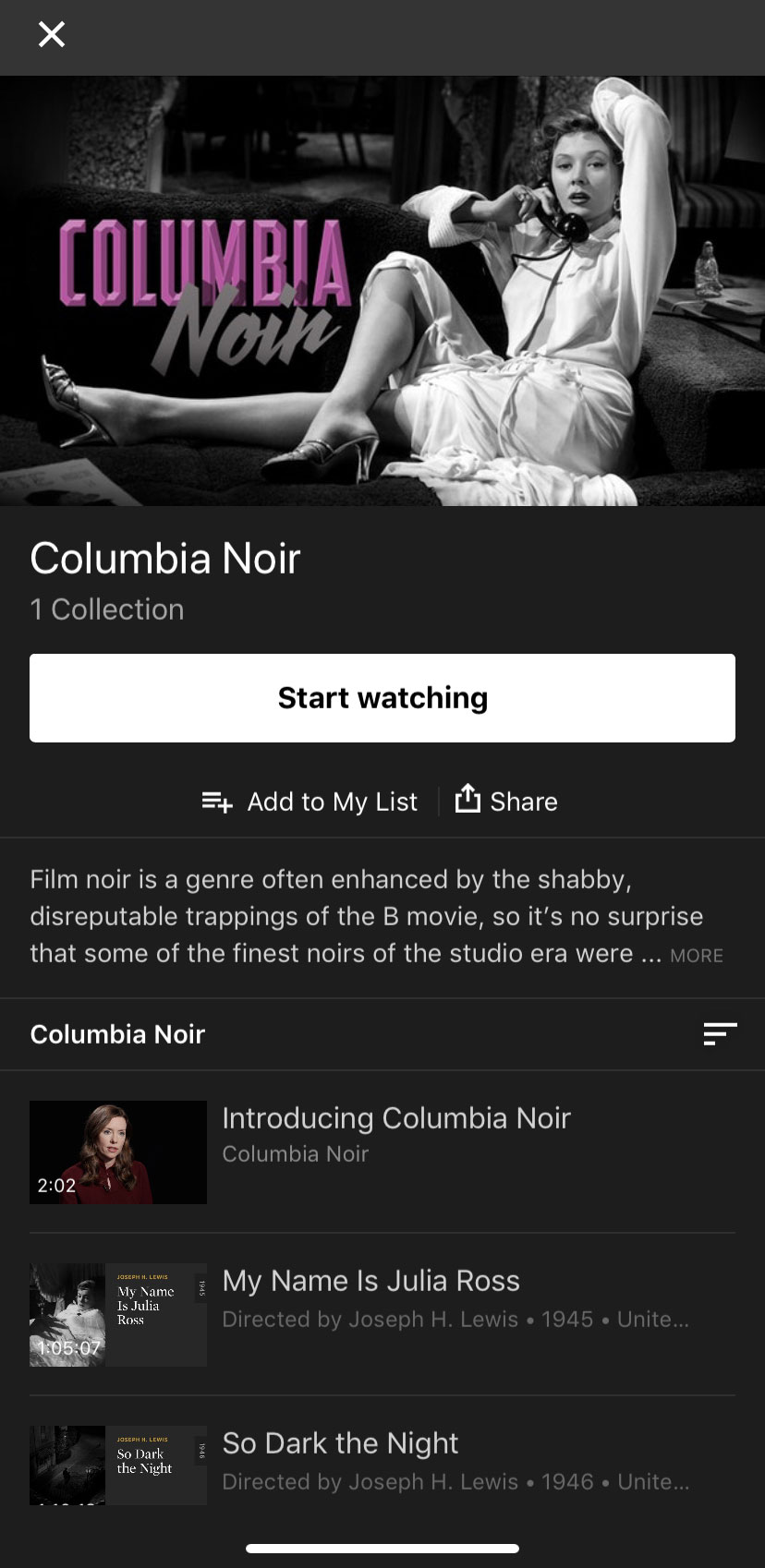 Apps
As well as the website you can download apps for Apple iPhone and iPad, Apple TV, Android devices, Android TV, Fire TV, and Roku. The apps look about the same as the website layout except in more vertical (phones) or condensed (media player) layouts. To start watching you just have to sign in with the username and password used for the browser version, or sign up with any of the apps for the devices mentioned above.
The apps for mobile devices also feature a "light theme" that changes the look and feel of the interface to a brighter style.
Bonus Material
Titles include bonus material if available below the movie description and thumbnail. Andrei Tarkovsky's Stalker, for example, includes about 75 minutes of bonus material including an Intro, and interviews with Geoff Dyer, Eduard Artemyev, Rashit Safiullin, and Alexander Knyazhinsky about the making of Stalker.
Summary
Overall, this is one of the better premiere launches of a streaming service we've seen. With a few more functions to enhance the user experience and a rotating selection of fresh titles beyond the Criterion Collection core library, this is a must-have channel for film buffs and students of cinema alike.