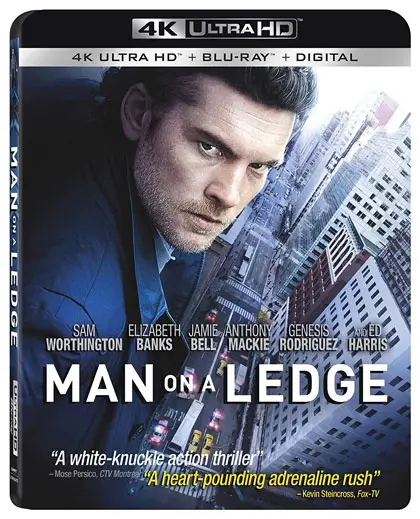 Summit Entertainment's action film Man On A Ledge (2012) will be releasing 4k Blu-ray Disc on Tuesday, April 9. The film centers on a seemingly suicidal man (Sam Worthington) standing outside the window of a high rise on the 21st floor. But while he distracts policemen and SWAT team members there is something else going on next door.
Man On A Ledge on 4k Blu-ray is presented at 2.40:1 aspect ratio (original 2.35:1) in 2160p resolution — a huge improvement over the 2012 Blu-ray release. What's more, the 4k Blu-ray includes HDR for improved color depth.
The soundtrack has also been improved, upgraded to English Dolby Atmos and Dolby TrueHD 7.1 from the 2012 DTS-HD 5-channel soundtrack.
Bonus features include "The Ledge" featurette and movie trailer with commentary from Elizabeth Banks. And, the combo edition packs a Blu-ray copy as well as code to redeem a digital copy.
Man On A Ledge can be pre-ordered from Amazon for $19.48.