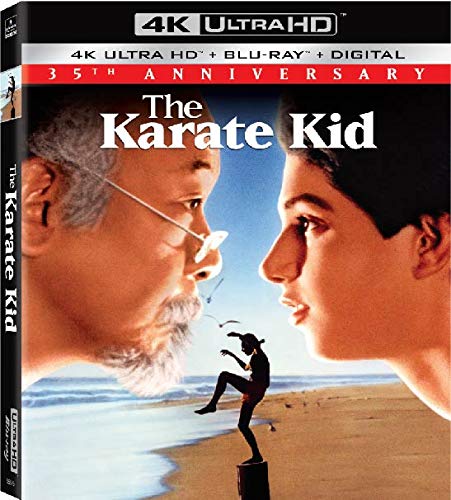 Sony Pictures Home Entertainment is releasing a 4k Ultra HD Blu-ray edition of Oscar-nominated The Karate Kid on Tuesday, April 16.
The release of the film to UHD BD follows a limited theatrical showing with Fathom Events on Sunday, March 31, and Tuesday, April 2.
The Karate Kid (1984) has been fully restored in 4k from the original camera negative that was shot on 35mm film with Panavision cameras. The Ultra HD Blu-ray edition features a newly mixed Dolby Atmos soundtrack along with the original stereo and 5.1 audio tracks.
The 2-disc combo from Sony comes with 4k Blu-ray, Blu-ray and a Digital copies. In addition, the 4k release includes a new anniversary featurette titled "Remembering The Karate Kid" with Ralph Macchio, William Zabka, and Martin Kove.
The Karate Kid on 4k Blu-ray is list-priced $30.99 and can be ordered from Amazon for $26.49.
Tickets for the limited, 2-day theatrical presentation of The Karate Kid will be available starting Friday, Feb. 15 at FathomEvents.com or through participating box offices.