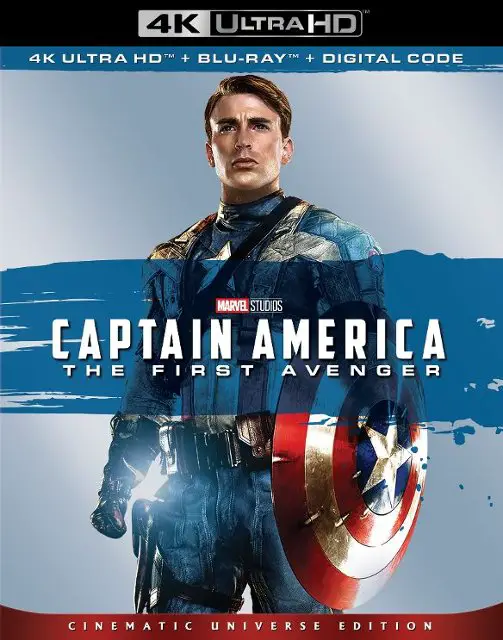 The fifth film in the Marvel Cinematic Universe, Captain America: The First Avenger, has been given a 4k upgrade and will release to Ultra HD Blu-ray on Feb. 26, 2019.
As well as a common 2-disc 4k Blu-ray edition ($29.99) with Blu-ray and Digital UHD copy, Best Buy will release a limited edition SteelBook version ($34.99). Extras will be the same at the previously-released Blu-ray editions. See a pic of the SteelBook below.
On 4k Blu-ray, Captain America: The First Avenger is presented in 2160p at 2.35:1 aspect ratio. Like other Disney/Marvel titles, High Dynamic Range is provided to enhance the color depth via HDR10.
Audio formats have not yet been revealed. But, considering the last release of 'The First Avenger' to Blu-ray featured a DTS-HD Master Audio 7.1 soundtrack, it would be expected that Disney/Buena Vista steps up the audio to Dolby Atmos.
Captain America: The First Avenger (2011) was the first film in what's now a trilogy that includes Captain America: The Winter Soldier (2014) and Captain America: Civil War (2016). The film also served to set up The Avengers franchise films that started with Marvel's The Avengers (2012).
Amazon doesn't have it listed yet, but you can pre-order either the standard Blu-ray edition or SteelBook edition of Captain America: The First Avenger over at Best Buy.