Fantastic Beasts: The Crimes of Grindelwald will release to Blu-ray, 4k Blu-ray and DVD on Tuesday, Mar. 12. An early digital release is expected almost a month before on Tuesday, Feb. 15. Each Blu-ray edition includes the Theatrical Cut (134 min.) and Extended Cut (141 min.) of the film. The movie will be available in several editions from Warner Home Media including Blu-ray, Ultra HD Blu-ray and DVD, as well as exclusive retailer exclusives from Best Buy and Target. Here's an overview.
Common Blu-ray Edition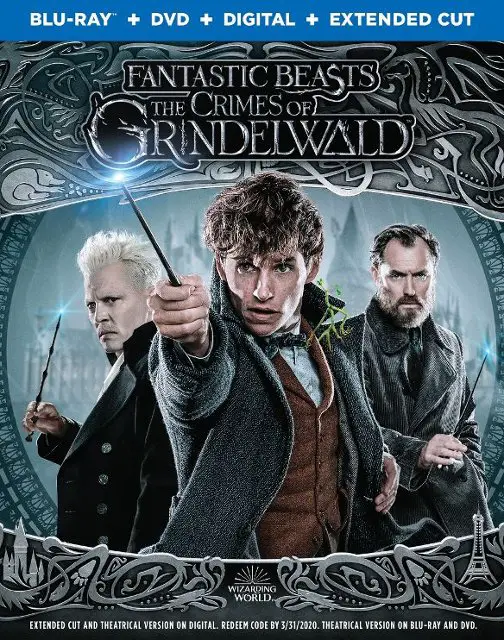 Fantastic Beasts: The Crimes of Grindelwald on Blu-ray is presented in 1080p at 2.40:1 aspect ratio with a Dolby Atmos/Dolby TrueHD 7.1 soundtrack in English. French, Portuguese and Spanish audio is provided in Dolby Digital 5.1. Subtitles are offered in English SDH, French, Portuguese, and Spanish.
Bonus features available with all the BD editions include six "Unlocking Scene Secrets" featurettes, Distinctly Dumbledore, J.K. Rowling: A World Revealed, Wizards on Screen, Fans in Real Life, and deleted scenes. And, the combo edition from Warner Bros. includes Digital Copies of the film. Price: $35.99
Common Ultra HD Blu-ray Edition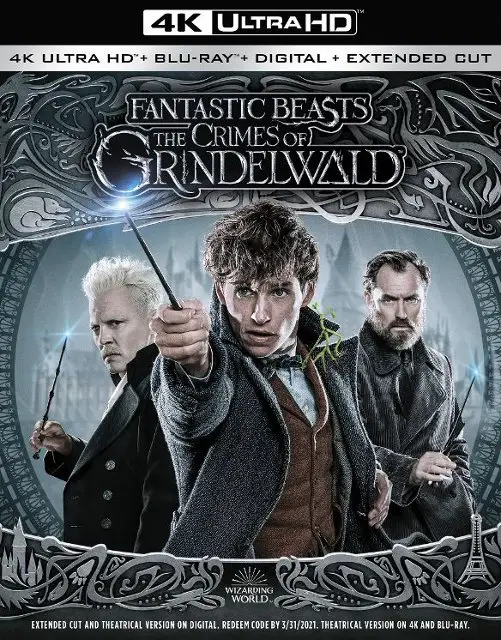 On Ultra HD Blu-ray, Fantastic Beasts: The Crimes of Grindelwald is presented in 2160p at 2.40:1 aspect ratio with Dolby Vision HDR and Dolby Atmos/Dolby TrueHD 7.1 audio. The UHD edition also includes the multiple languages and subtitles as the BD version, as well as bonus materials and digital copies. Price: $44.95
3D Blu-ray Edition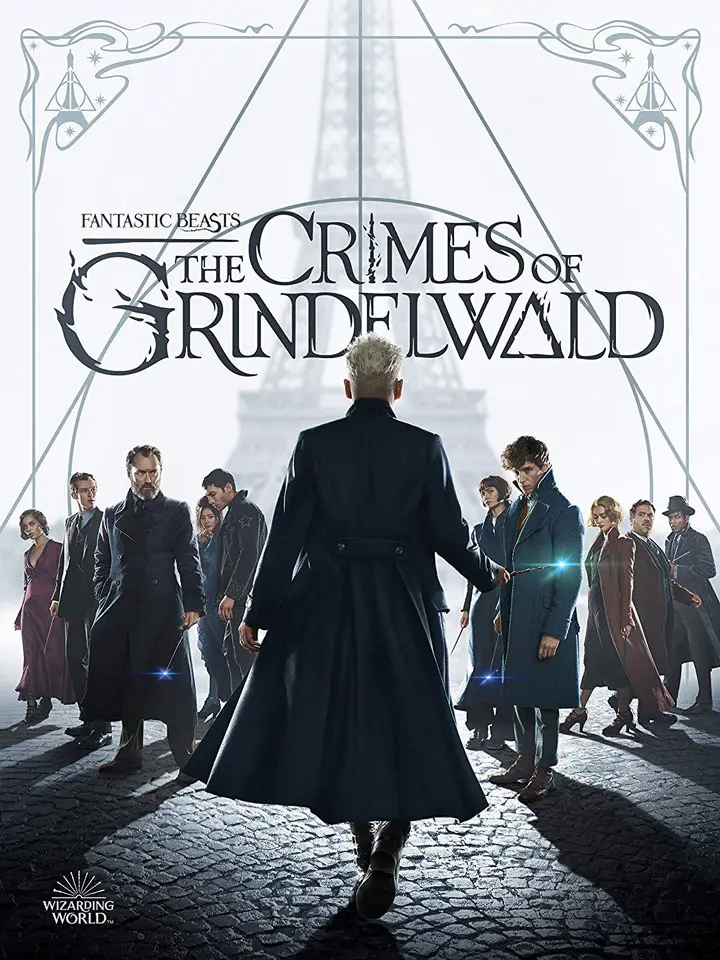 There's a 3D Blu-ray edition listed on Amazon although final artwork not available yet. It's a Region A/1 disc dated for release simultaneously with the other versions, and should include both the theatrical and extended version of the film, although we can't be sure if both will be available in 3D given the number of formats this edition could have. Price $44.95
Best Buy SteelBook Edition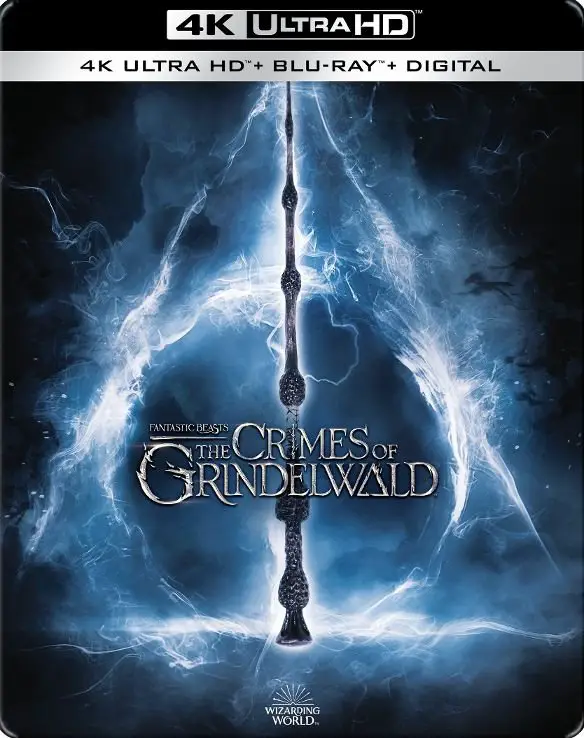 Best Buy has an exclusive 4k SteelBook release of Fantastic Beasts: The Crimes of Grindelwald with custom artwork on the cover, inside, and disc tops. The 2-disc edition includes a 4k Blu-ray, Blu-ray, and Digital Copies, as well as bonus materials available on all BDs. Price: $34.99
Target Blu-ray & Ultra HD Blu-ray Editions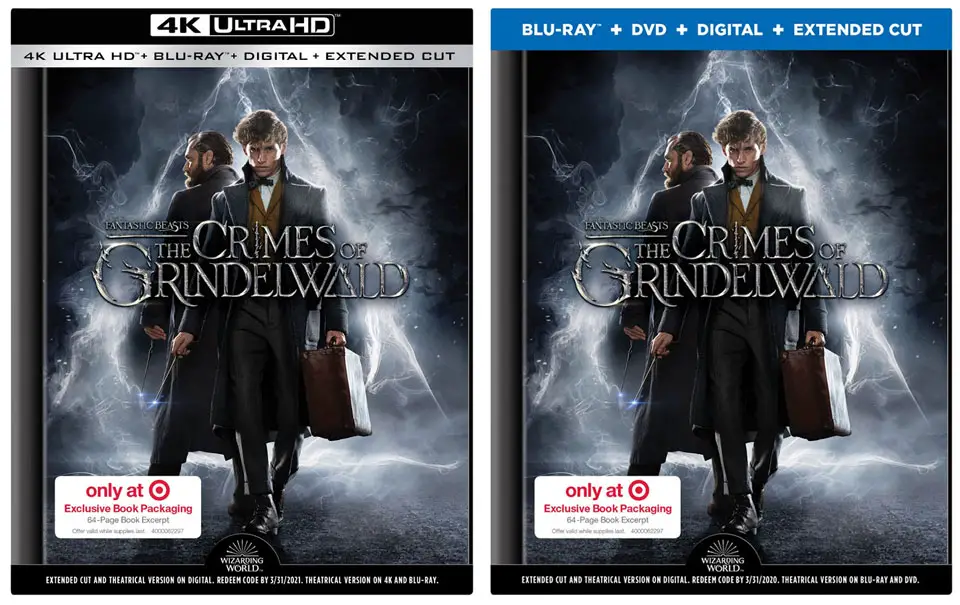 Target has two exclusives BD editions of Fantastic Beasts: The Crimes of Grindelwald — one a Blu-ray and one 4k Blu-ray. Each edition includes a 64-page book excerpt in exclusive book packaging, along with all the bonus materials mentioned above. Price: $29.99 (Blu-ray) $34.99 (4k Blu-ray)
Bonus Materials
Theatrical Cut of the Film (134 min.)
Extended Cut of the Film (141 min.)
Distinctly Dumbledore
J.K. Rowling: A World Revealed
Unlocking Scene Secrets: The Return to Hogwarts
Unlocking Scene Secrets: Newt's Menagerie
Unlocking Scene Secrets: Credence, Nagini and the Circus Arcanus
Unlocking Scene Secrets: Paris and Place Cachée
Unlocking Scene Secrets: Ministere des Affaires Magiques
Unlocking Scene Secrets: Grindelwald's Escape and the Ring of Fire
Wizards on Screen, Fans in Real Life
Deleted Scenes