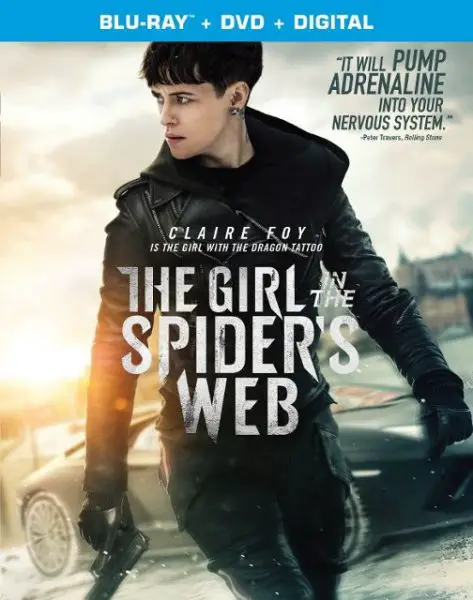 Sony Pictures' The Girl in the Spider's Web starring Claire Foy (The Crown) is scheduled to release to Blu-ray Disc and DVD on Feb. 5, 2019.
The Girl in the Spider's Web is based on the novel by David Lagercrantz  and follows the character Lisbeth Salander (Claire Foy) and a malicious plot to access the world's nuclear codes. The film was directed by Fede Alvarez (Evil Dead) and also stars Beau Gadsdon, Lakeith Stanfield and Sverrir Gudnason.
The 2-disc Blu-ray edition includes a Blu-ray, DVD and Digital Copy. As of now there aren't any 4k Blu-ray editions listed to pre-order. Bonus features include eight deleted scenes, four featurettes, and audio commentaries with Director Fede Álvarez and Screenwriter Jay Basu.
The Blu-ray edition of The Girl in the Spider's Web is available to pre-order for $26.34 (List: $34.99).
Synopsis
Lisbeth Salander, the cult figure and title character of the acclaimed Millennium book series created by Stieg Larsson, will return to the screen in The Girl in the Spider's Web, a first-time adaptation of the recent global bestseller. Golden Globe winner Claire Foy, the star of "The Crown," will play the outcast vigilante defender under the direction of Fede Alvarez, the director of 2016's breakout thriller Don't Breathe; the screenplay adaptation is by Steven Knight and Fede Alvarez & Jay Basu.
Special Features
Feature and Deleted Scenes Audio Commentaries with Director Fede Álvarez and Screenwriter Jay Basu
"Claire Foy: Becoming Lisbeth"
"All About the Stunts"
"Secrets of the Salander Sisters"
"Creating the World: The Making Of"
8 Deleted Scenes
Trailer