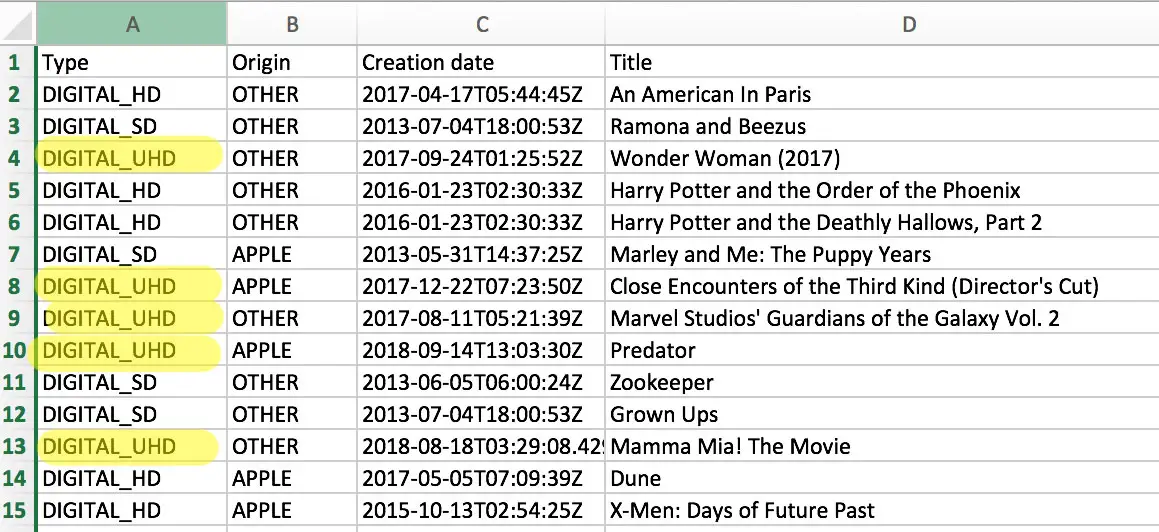 There has been some confusion as of late about digital ownership with iTunes. It seems video specifications (whether SD, HD, or UHD) are not always correct, customers come across region/country issues, and there have been reports about purchased titles just disappearing from libraries. But this new feature from Apple might help clear things up.
Apple has a new privacy option that allows customers to download a history their own personal data that has been stored by the company. Within these downloads are spreadsheets that can confirm what titles you have purchased or redeemed through other services, and the resolution you supposedly own in digital format.
Of course the records also show music, books and other product downloads, but there are two records I was most interested in checking out: Store Transaction History and Movies Anywhere Entitlements. These records are provided in Excel format, but if you don't have the Microsoft suite you can always open them in Google Sheets or iCloud Numbers.
Store Transaction History is just what it says it is – a record of every app, song, movie, TV or book purchased on iTunes. Unfortunately, this record (shown below) does not show what resolution movies were purchased in, although some item descriptions include the indicator "4k".

You may find some of the item descriptions confusing. For example I never purchased the Mission: Impossible: 5 Movie Collection. I did, however, redeem each MI movie individually from the code included with the Ultra HD Blu-rays. But iTunes has it recorded as the collection. There might be something with the way Apple prices titles as part of a bundle. Many other individual titles are described as collections.
The other record, Movies Anywhere Entitlements, provides a list of titles that have been merged into Disney's Movies Anywhere platform — a personal cloud of sorts that most studios have joined which combines digital purchases into one library.
The spreadsheet (pictured on top) indicates the resolution (SD, HD, or UHD), where it was purchased or redeemed (from Apple or Other service), the creation date, title and additional information. Here's where you can see which titles you need to upgrade to 4k, or which movies you thought you owned in 4k or HD but now realize you don't!
Now, don't get that record confused with the Disney Movies Anywhere Entitlements file that relates to Disney's previous digital redemption platform. You would likely find older titles like The Incredibles and Frozen in that spreadsheet.
Among other iTunes data that's included with the download are "Hidden Purchases," meaning, titles from your purchased history that you may have hidden in your library on your devices.
In addition, Customer Device History where customers can see device name and authorization history, Pre-order History (this speaks for itself), Subscription History, and Billing Information History that shows just about everything except CC number, expiration date and 3-digit code.
You can also find TV Provider opt-in history. For example, if you authenticated HBO Go through the app for Apple TV it will show you the first date enabled, last date enabled, and last date disabled.
There is a lot more to managing and viewing your data. You can download contacts, emails, photos, videos and more. But be careful what you ask for. A download of your iCloud photo and video collection could be more than your hard drive can handle. For large download requests Apple will separate into 10GB chunks.
Apple also offers a way to make revisions to your personal data if you need to. That option is provided right beneath the "Get a copy of your data" section on the Data and Privacy page.
The download requests take a while. Mine took almost the full seven days Apple forewarned about. If you've got an Apple account and want to view your personal history head over to their Privacy and Data webpage.