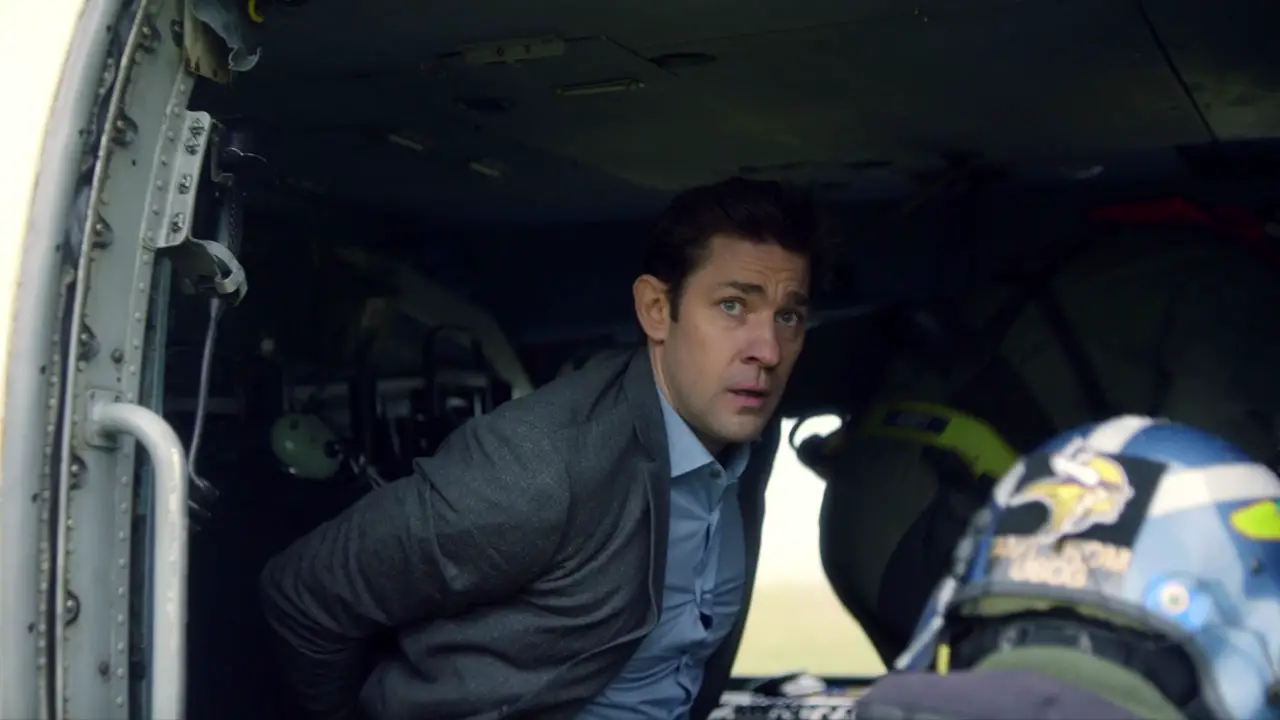 Amazon just premiered their original series Tom Clancy's Jack Ryan available for Prime members only. The series takes the Jack Ryan character created by Tom Clancy but places him in a contemporary setting where U.S. intelligence is looking for signals of terrorist activity in the Middle East. Note: This review has some spoilers about the set up of the series, but doesn't go beyond mid-way through Episode 1.
The Story
The series opens as an airstrike takes place in Lebanon, where the seeds of hate are sown for two young survivors. The story then cuts to the present day in Washington D.C. where we find our protagonist rowing in the Potomac River.
Jack Ryan (played by John Krasinski) is a Boston College graduate, veteran U.S. Marine, and in the present a CIA analyst who has been cross-analyzing databases trying to find possible terrorist activity in Yemen. He discovers a pattern of financial transactions that he believes could lead to the next Bin Laden, but his voice is squashed by a recently demoted department chief named James Greer.
Ryan takes steps to go over the head of his superior, and this immediately causes conflict within the CIA section where Ryan feels he is on to something. But Greer soon learns Ryan's instincts were right, and the two end up flying to Yemen where they've found the man suspected of moving $90 million U.S. dollars to fund a terrorist plot.

The Picture
There is excellent color depth in Tom Clancy's Jack Ryan, even without HDR. Of course, some of this can be controlled with the settings on your TV. For this type of programming we always suggest staying away from settings that artificially enhance the native picture – like Sports Mode. This show has a nice cinematic look and best viewed in Film or Natural Mode (Economy Mode might also work).
Unfortunately, the picture does not look so great on smaller screens. We reviewed it on an iPad Pro and iPhone 8 where the black levels are really crunched. What I mean by this is a loss of most detail in the darker, shadow areas. This is where HDR comes in, allowing more depth in the darker and lighter areas of a video image. But HDR isn't supported on Apple mobile devices. For this fault, we strongly suggest watching 'Jack Ryan' on a big screen or device that supports HDR. On a 15" MacBook Pro the picture looks great so we suspect laptops and computer displays were one of the target output devices.
Audio
There is a lot of dead silence in the series, and whether or not the intention was to enforce the dramatic dialogue the overall pace of the show gets crushed. This isn't a good way to introduce an 8-episode series, as I found myself almost falling asleep 5-minutes into the series when Greer (played by Wendell Pierce) is called to a meeting with his boss Nathan Singer (Timothy Hutton). An underscore of music or ambient noises might have helped viewers get through the seemingly long and drawn-out scenes that lack any background audio.
There is a "film" score though, and it works well when used. The soundtrack takes some influence from 80's action films (even Jack Ryan movies) but resembles the scores of more contemporary TV dramas you might find on one of the major networks. But the audio is just as cliché as the rest of the show at times and doesn't bring much originality to the show.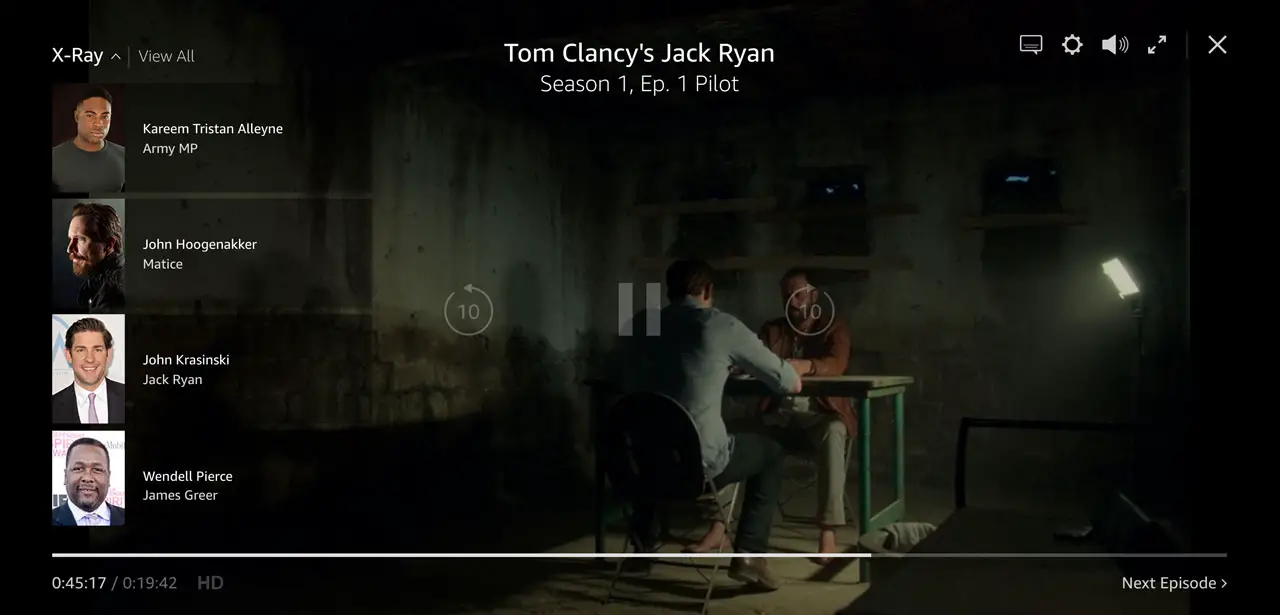 X-Ray
The Amazon Original Series Tom Clancy's Jack Ryan also features X-Ray notations, so you can find out more about the characters and actors in certain scenes. The feature is available when viewing on browsers (with the HTML5 video player), Amazon Fire TV and Fire tablets, Android and iOS mobile devices and Wii U.
Summary
Tom Clancy's Jack Ryan isn't 24 or NCIS, at least from the first episode, but the rest of the season does have the potential to develop into something more. Considering the show has already been given the green light for a second run, Amazon must be getting some decent reviews and at least enough hype to produce another 8 episodes. But so far this series is a snoozer, and without Krasinski and the benefit of 20 novels and five films based on Tom Clancy's character, the show would be a flop.