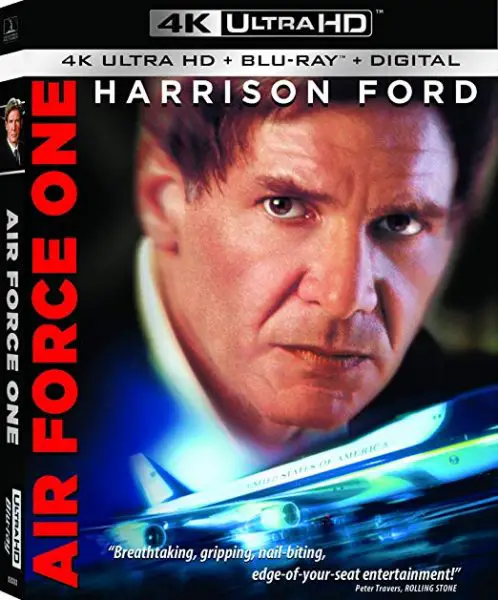 You might say Harrison Ford has never really done a bad action film. From Raiders of the Lost Ark (1981) to Clear and Present Danger (1994) and The Fugitive (1993), they've all been winners.
That includes Air Force One (1997), directed by Wolfgang Petersen in which Ford plays the role of President James Marshall who fights to regain control of the President's plane that has been hijacked mid-flight.
Gary Oldman, Glenn Close William H. Macy, and Dean Stockwell are among the other cast members that contributed to this 2x Oscar-nominated film (Best Sound, Best Film Editing) written by Andrew W. Marlowe.
Sony Pictures is bringing Air Force One to 4k Ultra HD Blu-ray on Nov. 6, 2018. The film was originally shot in 35 mm and processed in Super 35 with a Dolby Digital soundtrack. The Ultra HD Blu-ray edition presents the remastered video from the original negative in 4k with HDR10 (High Dynamic Range) deep color and audio in Dolby Atmos backed by Dolby TrueHD 7.1.
Extras include audio commentary with director Wolfgang Petersen and optional SDH subtitles in English. The 2-disc set from Sony has a second Blu-ray Disc and Digital Copy to redeem with Movies Anywhere.
Air Force One has a list price of $30.99 and pre-orders are currently selling for $26.49 at Amazon and $22.99 at Best Buy.