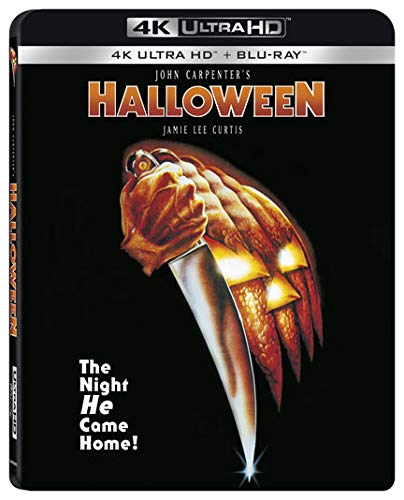 One of the greatest horror films of all time will release to 4k Blu-ray. John Carpenter's Halloween (1978), starring Donald Pleasence and Jamie Lee Curtis, will arrive on Ultra HD Blu-ray on Sept. 25, 2018.
It's already one of the best sellers on Amazon's Blu-ray pre-order page, selling for the modest price of $20.13 (SRP: $22.99).
The 2-disc edition of Halloween from Lionsgate also includes a Blu-ray copy, but does not appear to include a Digital Copy (at least that's what we deduct from the BD packaging). This is a disappointment considering most combo discs these days include a digital redemption code.
The new 4k print of Halloween is presented in 2160p resolution at 2.35:1 aspect ratio with HDR enabled by Dolby Vision. Audio includes both 7.1 Dolby TrueHD and English mono soundtracks as detailed by Lionsgate Home Entertainment.
However, there's nothing new about the bonus features as this 4k release includes the same extras as the 35th Anniversary Blu-ray edition: audio commentary, two featurettes, trailer, TV and radio spots.
The editorial section at Rotten Tomatoes ranks Halloween #48 in the "100 Best Horror Movies of All Time," but the list is obviously automated (proof in that Get Out (2017) is ranked No. 1, which is a great film in its own right but ranked highest because of some weird "Adjusted Score" measurement.
One might find a more accurate ranking by Bloody Disgusting who puts Halloween at #4, just behind Psycho (1960), The Thing (1982) and The Exorcist (1973). So much for automated rankings on 'Tomatoes' — get someone to fix your list!
Halloween Special Features
Audio Commentary with Writer/Director John Carpenter and Actor Jamie Lee Curtis
The Night She Came Home
On Location: 25 Years Later
TV Version Footage
Trailer
TV Spots & Radio Spots
Also Read: Newly Announced 4k Blu-ray Coming Your Way!