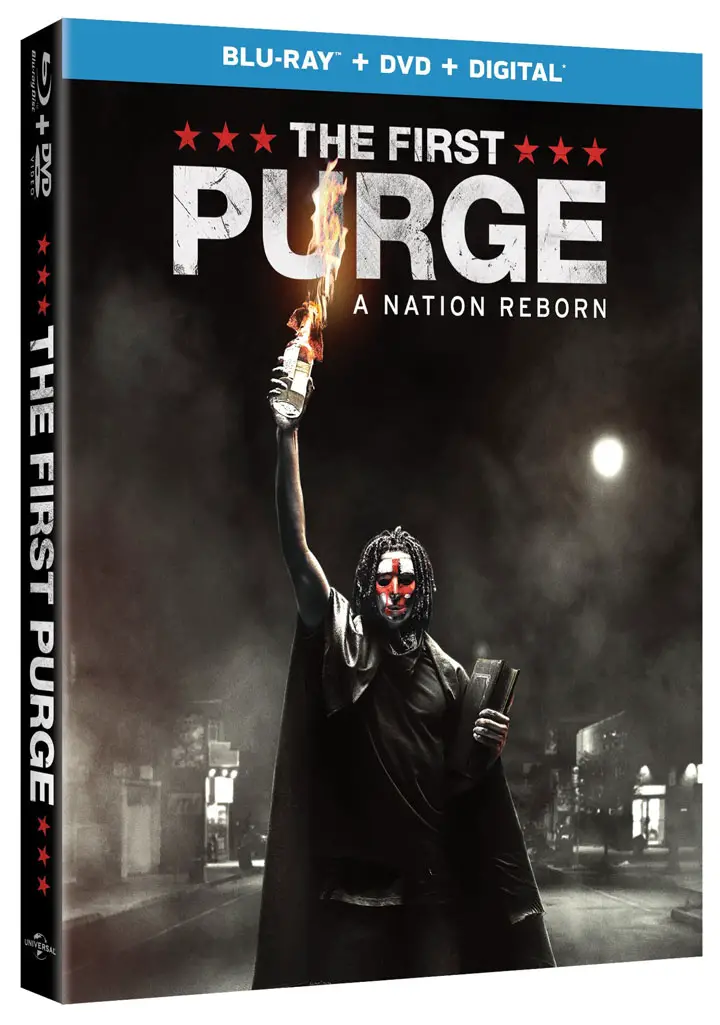 Universal Pictures Home Entertainment has provided an official release date for "The First Purge" on home media formats. The film will first be available in Digital on Sept. 18, followed by 4k Blu-ray, Blu-ray, DVD and On Demand on Oct. 2, 2018.
On disc "The First Purge" is presented at 2.39:1 (16:9) widescreen aspect ratio with an English DTS: X Master Audio soundtrack backed by Dolby Digital 2.0. The audio is also offered in Spanish and French language in DTS Digital Surround 5.1. The DVD includes an English Dolby Digital 5.1 soundtrack as well as Spanish and French in Dolby Digital 5.1.
The 4k Blu-ray, of course, increases the video resolution from 1080p to 2160p and adds High Dynamic Range color improvements.
Bonus features on all formats include the featurettes "A Radical Experiment," "Bringing the Chaos," and "The Masks of the First Purge" along with one deleted scene.
Synopsis: Now with the New Founding Fathers of America in charge of America's political landscape, change is inevitably coming. When Dr. Updale (Marisa Tomei) presents the chance for a risky, theoretical social experiment to become a live phenomenon, The Purge is born. Once Dmitri (Y'Lan Noel) is aware that his hometown of Staten Island has been selected to partake in the monumental social study that will forever change the way citizens interact with their government and neighbors alike, he naturally becomes suspicious of its purpose. Alongside community activist Nya (Lex Scott Davis) and her younger brother Isaiah (Joivan Wade), the three take to the streets of the first ever purge to protect their city and seek to survive at the risk of their own lives."
Bonus Features (4k Blu-ray, Blu-ray, DVD, & Digital)
Deleted Scene
A Radical Experiment – Cast and filmmakers discuss how The First Purge expands on the themes of the franchise, making them more culturally relevant than ever before.
Bringing the Chaos – Violence is inescapable in The First Purge. Here we explore the elements that ramped up the action in the film and made it the most intense installment yet.
The Masks of the First Purge – A good disguise is a key part of a successful Purge night. In this featurette, we take a look at how the masks in the film added to the terror of The First Purge.
Get more news on upcoming Blu-ray Disc releases!