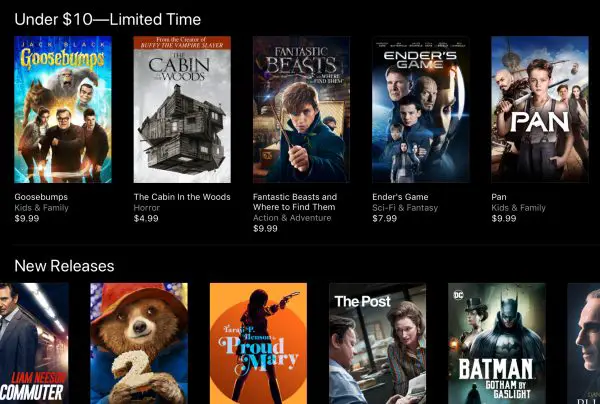 Why pay $29.99 for a movie in Digital 4k when you can get them for as low as $4.99?
Apple has a limited sale going on right now in which you can get select digital movies in 4k/HDR starting at $4.99. Here's a look at some really cheap 4k titles ordered by sale price.
There are some great movies priced at only $4.99 including Escape Plan, Cloverfield, Batman v Superman: Dawn of Justice (both theatrical and extended cuts), Man of Steel, Suicide Squad, The Dark Knight, La La Land, and The Cabin in the Woods.
In the $6.99 to $7.99 price range Apple has Ender's Game, 10 Cloverfield Lane, Allied, Star Trek, and The Hurricane Heist.
And, on sale for $9.99 are hits such as The 15:17 to Paris, Jurassic Park, The Lost World: Jurassic Park, Jurassic Park III, Atomic Blonde, Early Man, The Mummy, Goosebumps, Fantastic Beasts and Where to Find Them, I Am Legend, and Pan.
There are about 40 movies in all selected for the limited time sale. In addition to 2160p resolution, most of the movies are encoded with Dolby Vision or HDR10 for High Dynamic Range color.