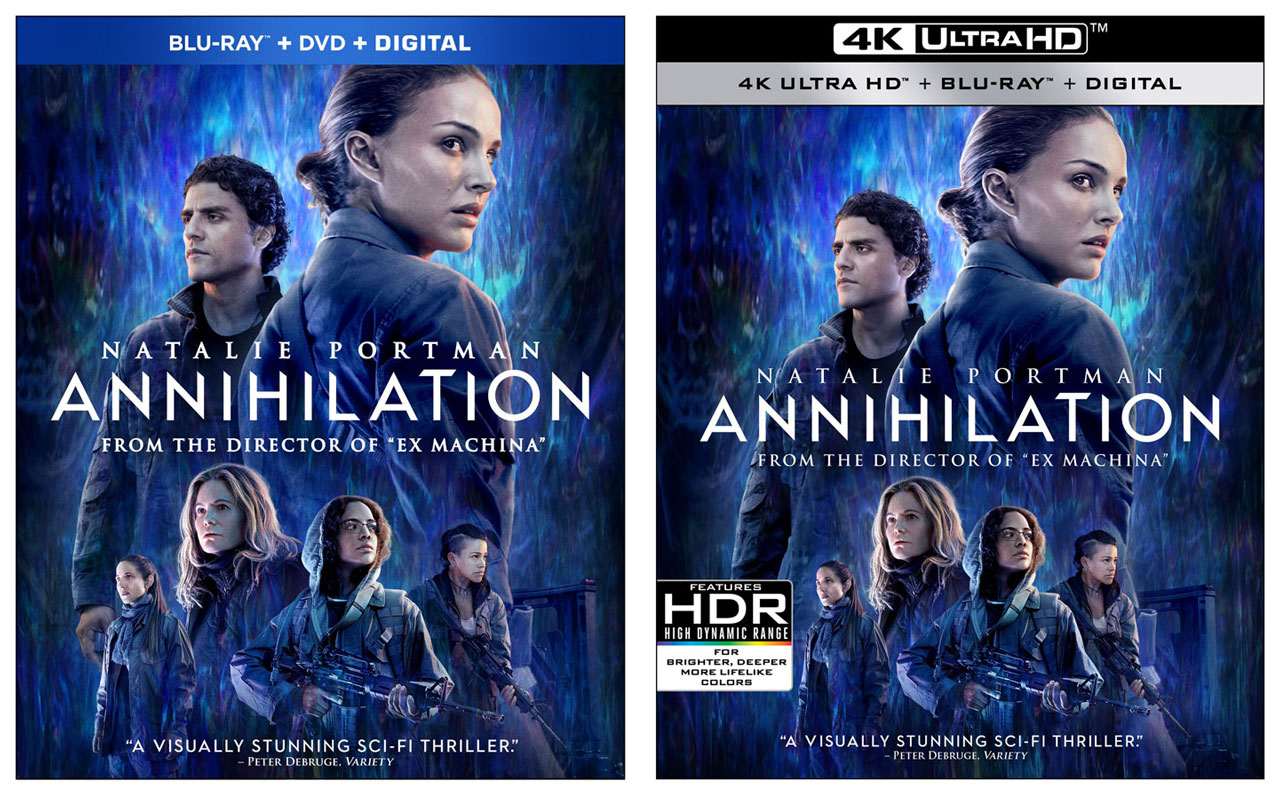 Paramount Pictures' sci-fi thriller Annihilation starring Natalie Portman is now available on Blu-ray, Ultra HD Blu-ray, and DVD. The film gets 87% on Rotten Tomatoes' Tomatometer and a 67% "Audience Score" with a critics consensus that calls the film an "impressively ambitious — and surprisingly strange — exploration of challenging themes."
On Blu-ray Disc Annihilation is presented in 1080p (Blu-ray) and 2160p/HDR (Ultra HD Blu-ray) with a Dolby Atmos soundtrack on each edition backed by Dolby TrueHD 7.1. Audio is also provided in French and Spanish in 5.1 Dolby Audio, as well as English Audio Description and English, English SDH, French, and Spanish subtitles.
The Blu-ray combo editions of Annihilation include plenty of extra bonus content broken down into three parts: Part 1 – Southern Reach; Part 2 – Area X; and Part 3 – To The Lighthouse. Each section has two featurettes providing insight into the making of the film.
Special Features
Part 1 – SOUTHERN REACH

Refractions – See how director Alex Garland created the tone, textures and color palettes for the various film environments on set.
For Those That Follow – Listen to the cast's perspective on their roles and learn why they found the story so intriguing.

Part 2 – AREA X

Shimmer – See how filmmakers transformed real set locations to create the world of Annihilation.
Vanished into Havoc – Check out all the action as cast and crew walk you through the mind-blowing stunts and special effects.

Part 3 – TO THE LIGHTHOUSE

Unfathomable Mind – Learn why the visual effects are integral to achieving director Alex Garland's overall vision for Annihilation.
The Last Phase – Listen to the cast and crew share their fondest memories from filming Annihilation.
Annihilation was previously released to digital formats including 4k/HDR, but starting today can be purchased in 2-disc Blu-ray editions for $19.99 (Blu-ry) or $24.99 (4k Blu-ray), as well as a single-disc DVD edition for $17.99 (these are the lowest prices found between Amazon and Best Buy).
[amazon_link asins='B079ZSSHP2,B079ZV7BVB,B079ZV7BVB' template='ProductGrid' store='API-user-hdr' marketplace='US' link_id='c38280b5-4270-11e8-924b-7bf09ef2a8a8′]