Hulu was down for the second night in a row last evening, with a loss of service starting at 07:54 PM Eastern Time, according to Outage Report. The service collected over 8,000 reports on January 23, and almost 4,000 on January 24.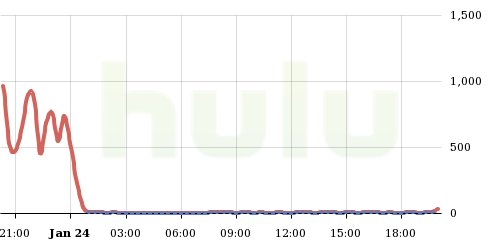 Some subscribers say they've been having trouble with logging-in and streaming for several days now according to Twitter users who posted the following:
"Having issues for 2nd day here in Las Vegas, NV. Getting errors on playback and freezing on one scene but voices are moving forward." – Gee P.
"Well me and my husband watch hulu every night and im in Glendale Az and im having issue keep getting errors and everything not working. Hulu fix this like wtf." – Jesse C.
"We've been unable to access HULU for 4 days now. I hope it is fixed soon & our bill will be adjusted." – Gail E.
The down times on both nights started around 7 p.m. which is peak streaming time for many customers.