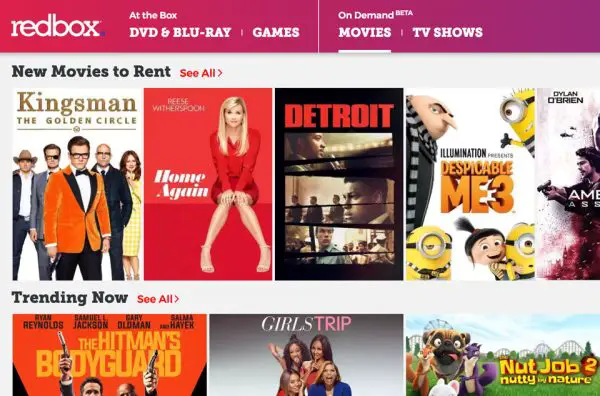 Yet another streaming video service enters the market, this time from an established brand name with disc rental kiosks across the United States. Redbox on Demand has officially launched in beta mode, offering online movie and TV show rentals and purchases.
The service is available through apps for Android and iOS devices, Chromecast and Roku media players, and Smart TVs from LG and Samsung. Redbox says they are expanding to more devices and TVs during the beta period.
This isn't Redbox's first foray into streaming online video. In 2012 the company partnered with Verizon to offer Redbox Instant by Verizon. But that service was shut down three years ago in 2014.
Prices are somewhat inconsistent though between the online service and kiosks. For example, the movie Step costs $1.50 to rent from a kiosk and $4.99 from the Rent on Demand website service. Purchase prices are also confusing. You can purchase the same title "at the Box" for $6.99 versus purchasing On Demand for $10.99.
Customers can also purchase TV show seasons. For example, Season 1 of American Gods can be purchased for $14.99 (SD) or $19.99 (HD).
Upon launch the company is also offering Redbox Play Pass, a rewards program that gives subscribers 10 points for every rental. When a subscriber reaches 100 points they get a free movie or game rental. Most titles seem to be "Play Pass Eligible."
Other bonuses of the service include free rewards upon sign up, free birthday disc rental, and the ability to reserve discs for pickup.
Will this new product stick? Redbox says they have 44 million email addresses (23 million people in their loyalty program) and 35 million app downloads (between iOS and Android) to market the new service to.
As of now Redbox on Demand doesn't offer 4k UHD resolution. And, purchases are not yet shared with Ultraviolet or the newly launched Movies Anywhere.