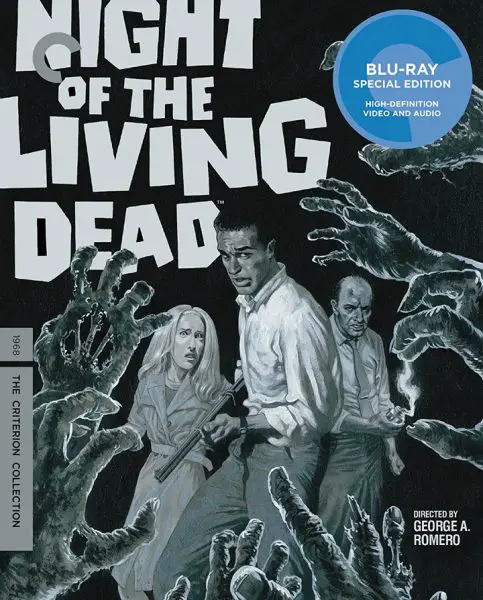 George A. Romero's classic 1968 horror film Night of the Living Dead has been digital restored in 4k for this Blu-ray Disc release that was supervised by Romero, co-screenwriter John A. Russo, sound engineer Gary R. Streiner, and producer Russell W. Streiner.
Complimenting the new 1080p presentation the film also is an uncompressed, monaural soundtrack supervised by Romero and Gary R. Streiner.
Bonus material includes a never-before-seen 16mm dailies reel, two commentaries from 1964, archival interviews, new programs about the film's production, several production featurettes, and an essay by critic Stuart Klawans.
Night of the Living Dead (1964) carries a manufacturers suggested retail price of $39.95.
Synopsis:
A deceptively simple tale of a group of strangers trapped in a farmhouse who find themselves fending off a horde of recently dead, flesh-eating ghouls, Romero s claustrophobic vision of a late-1960s America literally tearing itself apart rewrote the rules of the horror genre, combined gruesome gore with acute social commentary, and quietly broke ground by casting a black actor (Duane Jones) in its lead role. Stark, haunting, and more relevant than ever.
TWO-BLU-RAY SPECIAL EDITION FEATURES
– New 4K digital restoration, supervised by director George A. Romero, coscreenwriter John A. Russo, sound engineer Gary R. Streiner, and producer Russell W. Streiner
– New restoration of the monaural soundtrack, supervised by Romero and Gary R. Streiner, and presented uncompressed
– Night of Anubis, a never-before-presented work-print edit of the film
– New program featuring filmmakers Frank Darabont, Guillermo del Toro, and Robert Rodriguez
– Never-before-seen 16 mm dailies reel
– New program featuring Russo about the commercial and industrial-film production company where key Night of the Living Dead filmmakers got their start
– Two audio commentaries from 1994, featuring Romero, Russo, producer Karl Hardman, actor Judith O Dea, and more
– Archival interviews with Romero and actors Duane Jones and Judith Ridley
– New programs about the editing, the score, and directing ghouls
– New interviews with Gary R. Streiner and Russel W. Streiner
– Trailer, radio spots, and TV spots
– More!
– PLUS: An essay by critic Stuart Klawans
[amazon_link asins='B077H8N7PP' template='ProductGrid' store='API-user-hdr' marketplace='US' link_id='1a1ab5eb-cb5b-11e7-abff-4b7245861646′]