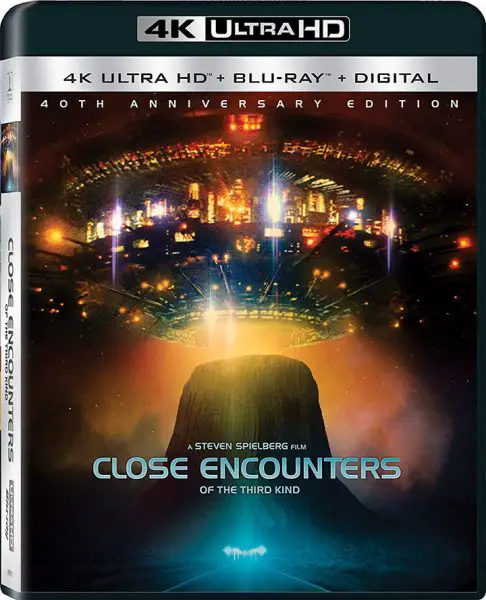 There are several hit films from the 70's and 80's that have been remastered for release on Ultra HD Blu-ray Disc such as Ghostbusters (1984), The Texas Chainsaw Massacre – German import (1974) and Steven Spielberg's E.T.: The Extra-Terrestrial (1984). Soon, another classic from Spielberg will hit stores on 4k Blu-ray.
Close Encounters of the Third Kind (1977) was a sci-fi breakthrough in which alien beings make contact with human through peculiar ways. The film won a Oscar for Best Cinematography – Vilmos Zsigmond and was nominated for another seven including Best Director – Steven Spielberg.
In addition to directing, Spielberg also wrote the film that starred Richard Dreyfuss, Teri Garr, Melinda Dillon (nominated for Best Actress in a Supporting Role), and François Truffaut.
In celebration of the 40th anniversary of Close Encounters of the Third Kind Sony Pictures Home Entertainment is releasing this special edition to both Blu-ray and 4k Blu-ray. The 2-disc Blu-ray includes two BDs and a digital copy, while the 3-disc 4k Blu-ray edition includes a 4k Blu-ray, two standard Blu-rays and digital copy. Buy on Amazon
Both the Blu-ray and 4K Ultra HD releases feature three restored versions of Close Encounters of the Third Kind: the 1977 theatrical version; 1980 Special Edition; and the 1997 Director's Cut.
There is also a Limited Edition 3-disc 4K Blu-ray "Light and Sound" Gift Set featuring illuminated packaging that plays the iconic 5-tone motif, as well as an expanded booklet with rare archival photos (pictured below).
The 4k remastered version of Close Encounters of the Third Kind is playing in select theaters starting Sept. 1, 2017.


Special Features:
3 Restored versions of the film: 1977 Theatrical Version, 1980 Special Edition & 1997 Director's Cut
ALL-NEW: "Three Kinds of Close Encounters" Featurette
NEW interview with Director Steven Spielberg on the legacy of the film, as well as new interviews with directors J.J. Abrams (Star Wars: The Force Awakens) and Denis Villeneuve (Arrival) about the impact of Close Encounters.
ALL-NEW: "Steven's Home Movies & Outtakes"
Rare never-before-seen home movies & gags from the set of Close Encounters.
Close Encounters of the Third Kind Making-of Documentary
"Steven Spielberg: 30 Years of Close Encounters" Featurette
Deleted Scenes
1977 Featurette "Watch the Skies"
Storyboard to Scene Comparisons
Extensive Photo Gallery
"A View From Above"
Theatrical Trailers