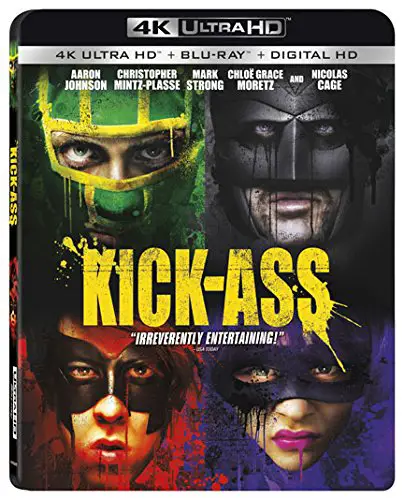 For those of us who love comics, dark comedies, and the anti-superhero, Kick-Ass is one must-have movie at home. But even if you've already got Kick-Ass on Blu-ray, you might consider upgrading that video quality to 4k (2160p) and audio to Dolby Atmos (backed by Dolby TrueHD 7.1).
The Warner Bros. Ultra HD Blu-ray release of Kick-Ass hits stores on October 3, 2017 (see pricing below), and comes with a Blu-ray and Digital HD copy of the film (we're hoping it will redeem a Digital UHD copy as well).
Extras include the 4-part documentary "A New Kind of Superhero: The Making of Kick-Ass," featurette "It's On! The Comic Book Origin of Kick-Ass," audio commentary with Writer/Director Matthew Vaughn, and more (see details below).
Directed and co-written by Matthew Vaughn, Kick-Ass is based on the Marvel comic book of the same name created by Mark Millar and John Romita.
The film stars a well-casted lineup including Aaron Johnson, Christopher Mintz-Plasse, Mark Strong, Chloë Grace Moretz, and Nicolas Cage.
Kick-Ass 4k Ultra HD Blu-ray
Special Features
"A New Kind of Superhero: The Making of Kick-Ass" 4-Part Documentary
"It's On! The Comic Book Origin of Kick-Ass" Featurette
Audio Commentary with Writer-Director Matthew Vaughn
Marketing Archive
Exclusive HD Content
Ass-Kicking Bonus View Mode (Blu-ray Disc Exclusive) – Synchronous with the feature film, this innovative multi-media presentation incorporates video and audio commentary, behind-the-scenes clips and illustrative graphics with Co-Writer/Producer/Director Matthew Vaughn, plus cast and crew providing an all-access perspective on Kick-Ass
"The Art of Kick-Ass" Gallery
[amazon_link asins='B07477Z59S' template='ProductGrid' store='API-user-hdr' marketplace='US' link_id='049e2fde-9f08-11e7-970a-bf1174ae3080′]