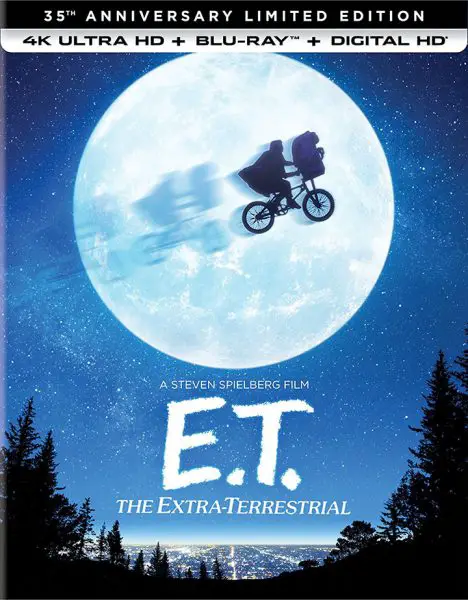 Universal Studios will celebrate the 35th Anniversary of Steven Spielberg's signature film E.T. The Extra-Terrestrial with a Limited Edition release to Ultra HD Blu-ray. Order on Amazon
The 3-disc Ultra HD Blu-ray edition features E.T. The Extra-Terrestrial in 4k (2160p) video resolution for the first time in home media, further enhanced with High Dynamic Range (HDR) color specifications. And, the award-winning by soundtrack by John Williams is provided in DTS:X Immersive Audio backed by DTS-HD Master Audio and Dolby Digital 2.0.
The edition also includes E.T. The Extra-Terrestrial on Blu-ray, with over three hours of previously-released bonus features such as deleted scenes, behind-the-scenes footage, featurettes, journals, and more (see full list below).
What's more, the 35th Anniversary Limited Edition includes a remastered Original Motion Picture Soundtrack on CD, Collectible Lenticular Packaging, and a Collectible Booklet.
A Digital Copy is also provided via iTunes and UltraViolet. We're hoping the code also includes a 4k UHD copy from Vudu or other UV partners offering Digital 4k copies.
E.T. The Extra-Terrestrial 35th Anniversary Limited Edition has a suggested retail price of $49.99. Sale: $14.99 Order from Amazon
E.T. The Extra-Terrestrial is also available in a standard 4k Blu-ray edition with Blu-ray and Digital Copy. Price: $22.99 | Sale: $16.99. Order from Amazon


35th Anniversary Limited Edition Includes:
Content
4K UHD Blu-ray
Blu-ray
Digital Copy
CD Soundtrack
Booklet
Collectible Lenticular Packaging
Over 3 Hours of Bonus Features
The E.T. Journals: Featuring behind the scenes footage from the filming of the movie, this featurette gives viewers a unique feeling of being on-set and living the excitement of what it was like to make E.T. (Blu-ray Exclusive)
Steven Spielberg & E.T.: The director reflects back on the film and discusses his experience working with children as well as his overall and current perspective on E.T.
Deleted Scenes
A Look Back: A special insider's look into the making of E.T. featuring interviews with Steven Spielberg, the cast, and others intimately involved with the film.
The Evolution and Creation of E.T.: From idea to screenplay, through casting and making the film.
The E.T. Reunion: The cast and filmmaker reunite to discuss their thoughts on the impact of the film.
The Music of E.T.: A Discussion with John Williams: Interviews and footage of the long-standing relationship between John Williams and Steven Spielberg.
The 20th Anniversary Premiere: Composer John Williams played the score of E.T. live at the Shrine Auditorium for the re-release premiere of E.T. This featurette gives us a behind the scenes look at this presentation.
Designs, Photographs and Marketing
Theatrical Trailer