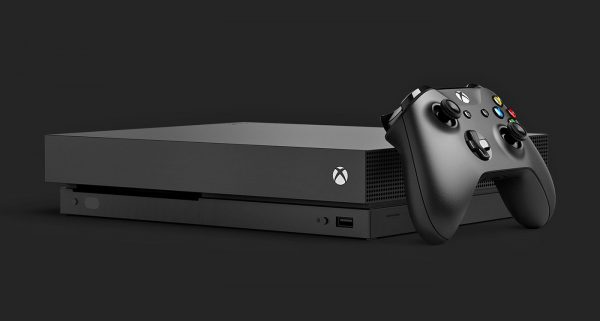 It's hard not to look at the Xbox One X and feel a little bit of sticker shock. Yes, Microsoft told us that the console will be a premium product for a premium price, but they also waited until the end of their E3 presentation to drop that $499 bombshell on fans everywhere.
Whether or not you think the Xbox One X is worth that price is a matter of opinion. The Xbox One X is designed to appeal to people who love the Xbox brand and want to ensure they're getting the best performance possible. Ther'es also a case to be made for those who want a powerful 4K multimedia device as the centerpiece of their home entertainment center.
Even if you don't intend to buy an Xbox One X, the console's price might still worry you for the simple reason that many people fear $499 might just be the standard price for next-gen consoles.
So far as console price raises go, gamers haven't had a lot to complain about these last few console generations. The Xbox and PlayStation 2 debuted at $299 while the Nintendo Gamecube launched for $199. Sony tried to release the PlayStation 3 at $499, but Microsoft successfully undercut them with $299 and $399 prices for the Xbox 360. Sony returned the favor next generation by releasing the $399 PlayStation 4 against Microsoft's initial $499 Xbox One price point.
In fact, if you account for inflation, console prices have historically gotten cheaper than over the years. For instance, an Atari 2600 would have set you back about $790 in modern money. An NES retailed for the modern equivalent of about $450.
Many gamers feel that this might be the last generation that Sony and Microsoft fans are able to secure a console for less than $499. That's supposedly evidenced by the price points of the Xbox One X, PlayStation 4 Pro ($399), and even the Nintendo Switch which debuted above most anticipate price points.
Despite that evidence, it's still unlikely that the next generation of base consoles will exceed that feared $499 mark.
Actually, you have the PlayStation 4 Pro and Xbox One X to thank for keeping console prices low. After trying, and failing, to release consoles at the $499 mark, Sony and Microsoft realized that most gamers think twice about how much they really need an almost $500 console. Since rising technology costs are forcing them to encroach that price point, though, both companies decided to release more expensive mid-generation upgrades instead of forcing that price on every level of consumers.
Now, you might not care about the PS4 Pro or Xbox One, but if you're somebody that wants to be able to buy a next generation console for less than $499, you should care about the relative success of these devices. If Sony and Microsoft discover that they can release a base console at a lower price and then appeal to gamers with higher expectations and deeper pockets with a more powerful/expensive console down the line, that could help ensure that those who are hesitant to spend so much money on a console won't have to unless they have certain expectations.
Will there be $500+ consoles in the future? Absolutely. The good news is that you might not have to buy them to play the latest games.