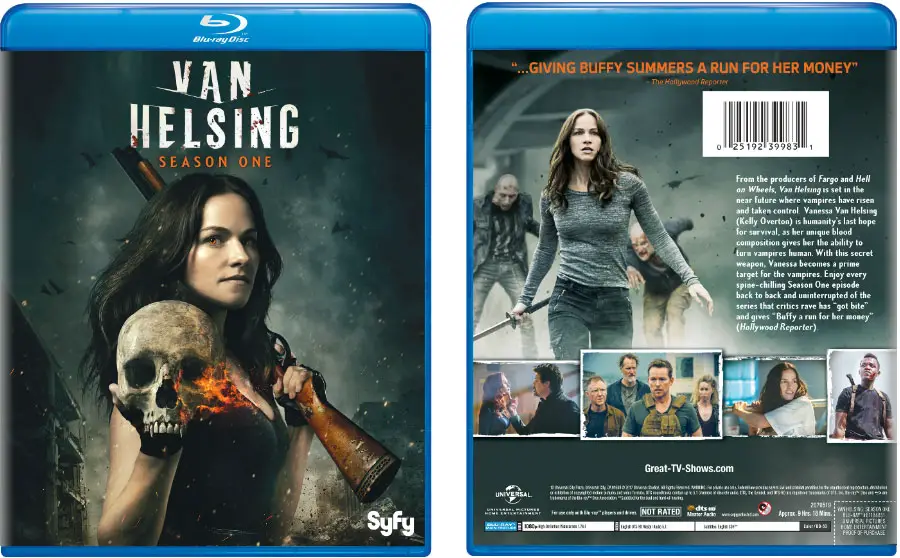 Syfy's first season of Van Helsing will release to Blu-ray Disc and DVD on June 6, 2017. With a total run-time of nine hours and nineteen minutes, Van Helsing: Season One contains all thirteen episodes from 2016 on three single-sided BD-50s.
Video on the Blu-ray Discs from Universal Pictures Home Entertainment is formatted in 1080p at 1.78:1 widescreen aspect ratio  with an English DTS-HD Master Audio 5.1 soundtrack. Subtitles are included in English SDH.
Kelly Overton stars as Vanessa Helsing in the SyFy series, a distant relative of the fictional vampire hunter Abraham Van Helsing created Bram Stoker. Van Helsing was introduced in the Gothic horror novel "Dracula" published in 1897.
Synopsis:
From the producers of Fargo and Hell on Wheels, Van Helsing is set in the near future where vampires have risen and taken control. Vanessa Van Helsing (Kelly Overton) is humanity's last hope for survival, as her unique blood composition gives her the ability to turn vampires human. With this secret weapon, Vanessa becomes a prime target for the vampires. Enjoy every spine-chilling Season 1 episode back-to-back and uninterrupted of the series that critics rave has "got bite" and gives "Buffy a run for her money" (Hollywood Reporter).