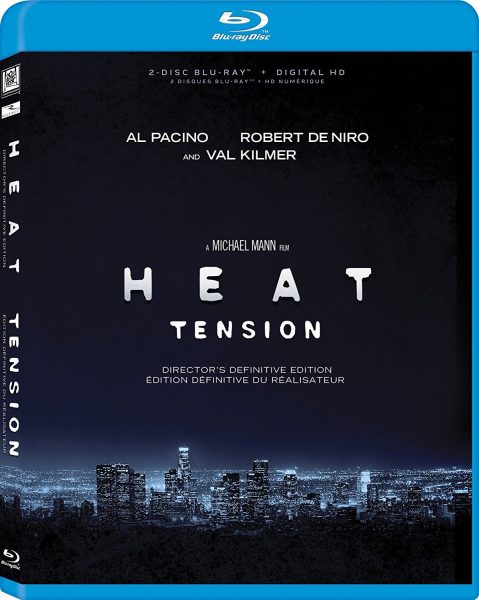 Michael Mann's masterpiece drama Heat starring Al Pacino, Robert de Niro, and Val Kilmer will soon get released to a Director's Definitive Edition. The 20th Century Fox release features a new Blu-ray copy of the film from a newly remastered 4k source supervised by Mann.
As far as final specs, the Definitive Director's Edition will feature a 24-bit English DTS-HD Master Audio 5.1 soundtrack with 1080p video at 2.40:1 widescreen aspect ratio. We were hoping a 4k disc release might be in the works but don't have any confirmation as of yet.
The two-disc edition repackages previously-released bonus material such as "The Making of Heat" and almost a dozen deleted scenes, but adds two new extras including an Academy Panel reuniting Michael Mann, Al Pacino and Robert De Niro (moderated by Christopher Nolan), and the "Toronto International Film Festival Q&A with Mann."
Heat Director's Definitive Edition will release to a two-disc Blu-ray edition on May 9, 2017 and is available to pre-order from Amazon for a modest $11.99.
Note: The dual-language packaging above likely will not be sold in the US. We'll update the article once we get the official English-language US packaging.
Heat Director's Definitive Cut Details
Special Features:
NEW Academy Panel reuniting Mann, Pacino and De Niro and moderated by Christopher Nolan
NEW Toronto International Film Festival Q&A with Mann
Audio Commentary by Michael Mann
The Making of Heat

True Crime
Crime Stories
Into the Fire

Pacino and De Niro: The Conversation
Return to the Scene of the Crime
Additional Footage – Deleted Scenes

Scene 5 – Season's starting early
Scene 42 – Nicest guy on the block
Scene 55 – Albert and Hanna (Alternate Take)
Scene 62 – Shakedown
Scene 76 – Murder in C-Block
Scene 96A – Let's Dance
Scene 125 – Late arrival
Scene 148/147 – Where's Anna?
Scene 177B – Double the worst trouble
Scene 191 – Nate delivers
Scene 204A – No response

Theatrical Trailers

Surprise of a Lifetime
Two Actors Collide
Closing In
Technical Specs:
Audio:

English DTS-HD-MA 5.1
Spanish DTS 5.1
French DTS 5.1
English DD 5.1
Spanish DD 2.0 Surround
French DD 2.0 Surround

Subtitles

English
English SDH
French
Spanish