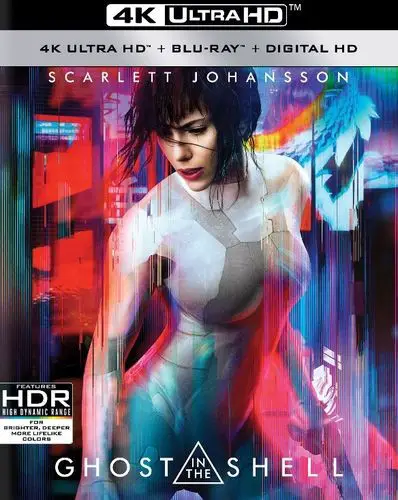 Paramount Pictures' Ghost in the Shell (2017) just hit theaters last week, but the film is already available to pre-order on Blu-ray, 4k Blu-ray, and DVD from Amazon and Best Buy. The movie, a remake of Mamoru Oshii's 1995 animated film of the same name, stars Scarlett Johansson as the cybog Major who is reunited with her stolen past.
We don't have complete specs or info on bonus content yet, but it looks like the Ultra HD Blu-ray edition will feature High Dynamic Range (HDR) color given the sticker on the Best Buy product art. For audio, we expect Ghost in the Shell to have either an English Dolby Atmos or English DTS:X soundtrack like previous Paramount UHD home media releases.
In terms of pricing, Best Buy has got the edge on Amazon with the 4k Ultra HD Blu-ray edition selling for $29.99, while Amazon has got pre-orders priced at $48.99. The standard Blu-ray edition is also priced higher at Amazon, $39.99 vs. $24.99 at Best Buy.
Expect both Amazon prices to go down soon though, or at least before the release date (which is not yet known), as Amazon will charge the lowest price before shipping the product.
Best Buy will also release an exclusive SteelBook edition of Ghost in the Shell (2017) that is selling for $29.99.
For those of you in the UK, feast your eyes on the Zavvi Exclusive Limited Edition Steelbook pictured below that's already sold out of pre-orders.
[Note: Artwork has been updated for Ghost in the Shell (2017).]