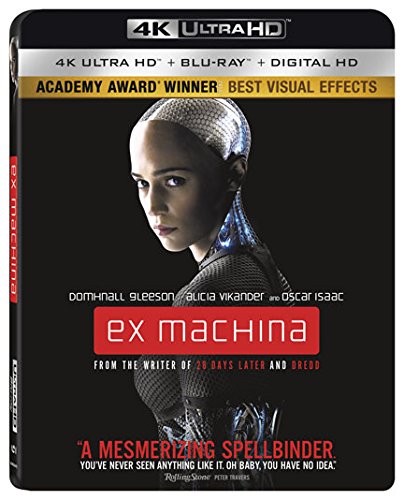 You might find Alex Garland's Oscar-winning film Ex Machina in the cheap bin at Best Buy, but that doesn't mean it's not worthy of a 4k print. The film, that some call a sci-fi masterpiece and instant classic, has been given a release date of June 6, 2017 on Ultra HD Blu-ray.
On 4k Blu-ray, Ex Machina is presented in 2.40:1 widescreen aspect ratio at 2160p video resolution. We're hoping the title also comes with an HDR layer but haven't received confirmation yet.
The English soundtrack can be played in several formats including DTS:X, DTS Headphone:X Audio, and DTS-HD Master Audio 7.1.
Ex Machina is available to pre-order for $22.99 (which also happens to be the list price of this single-disc edition on both Amazon and Best Buy), and comes with a Digital HD copy redeemable with UltraViolet partners.
Ex Machina Bonus Material
"Through the Looking Glass: Creating Ex Machina" 5-Part Featurette
8 Behind-the-Scenes Vignettes
SXSW Q&A with Cast and Crew
Audio Commentary with Director Alex Garland and more; Andrew Whitehurst, Geoff Barrow, Mark Digby and Michelle Day
Oscar Isaac Dance Scene (Easter Egg)
Read more news about new and upcoming 4k Blu-ray titles.