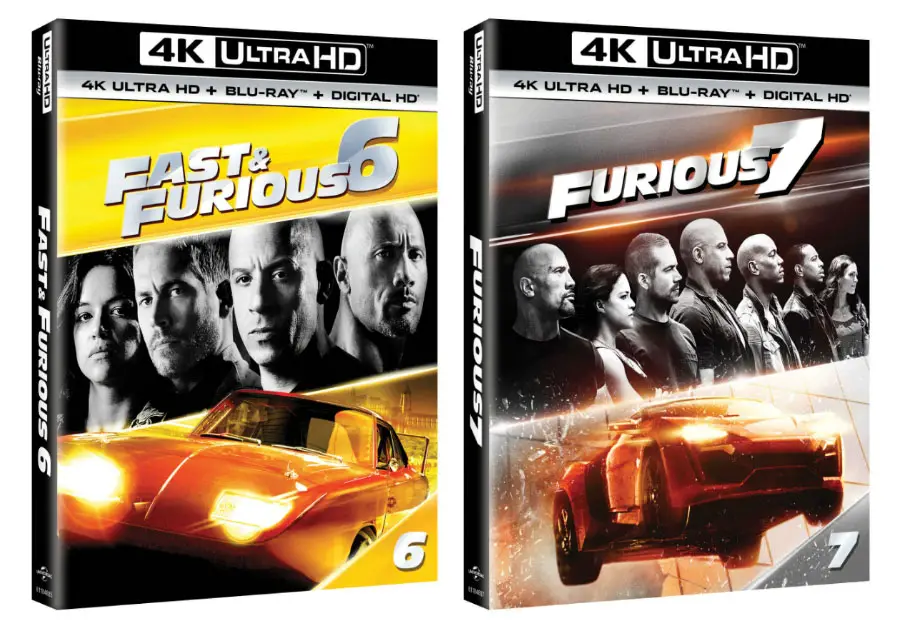 Fast & Furious 6 and Fast & Furious 7 are both headed for release on Ultra HD Blu-ray, including both the theatrical and extended versions of each film in 4k. And, the Ultra HD Blu-ray discs feature High Dynamic Range (HDR) color enhancements on 4k TVs that support the format.
The Ultra HD video is formatted in 2160p at 2.35:1 widescreen aspect ratio with HDR10 providing the specs for High Dynamic Range color and contrast.
For audiophiles and home theater enthusiasts alike, both 4k releases feature immersive audio in DTS:X and DTS Headphone: X, backed up by precursor DTS:HD Master Audio and Dolby Digital 2.0 sound formats.
The combo editions from Universal Pictures Home Entertainment include copies of the film on 4k Blu-ray, 1080p Blu-ray, and Digital HD with iTunes or UltraViolet.
Bonus content, viewable on the standard Blu-ray discs, includes over a dozen featurettes, audio commentary, deleted scenes, and both theatrical and extended version of the film.
Both Fast & Furious 6 and Fast & Furious 7 on Ultra HD Blu-ray will release to stores on March 28th, 2017. Each 2-disc edition carries an MSRP of $39.99, but are currently available at Amazon for $28 each.